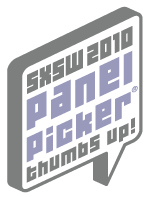 I've submitted two talks for the 2010 SXSW Interactive conference. As you might know, SXSW's selection process includes a period of public review to gauge general interest in the panels submitted (they call them "panels" even though many of the submissions, including my own, are single-speaker sessions).
I would be deeply grateful if you, gentle Graphpaper reader, would put in a vote for my sessions. If you want to comment on my ideas — and I'd love it if you would — please do so at the SXSW site. (You have to register to vote, but it's an easy and painless sign up.)
Here are my proposals (click the title to see the voting page):
The Human Interface (or: Products are People, Too!)
More and more, users are interacting with web sites and software on a conversational, physical, psychological, and emotional level — just like we've always interacted with other people. UX designers, then, must stop thinking about interfaces as dumb control panels and begin using technology to envision interfaces (literally!) as human beings.
.
Re-Invent the Wheel!: Redesigning your Design Process
It's the start of a new project. You've got requirements, guidelines, data, research. Now what? Like an artist staring at a blank canvas, designers of interactive products often don't know where to start. Instead of following a rigid methodology or waiting for the perfect idea to appear out of the blue, designers must invent new tools and tricks to foster real UX innovation.
I'm particularly excited about the first one, as it ties together so much of what I love and/or things I know a lot about: interaction design, science fiction, culture and literature in design, artificial intelligence, human behavior and emotional design. It's kind of like "The Graphpaper.com Experience, Live!"
Sharing the love
There are a few other talks I think you ought to consider voting for, as well, from people I like and think people should be listening to:
In the spirit, literally, of my "Human Interface" talk, there are several talks about the literary, cultural, emotional, and storytelling-based foundations of interactive design:
A few good panels about the past and future of interaction design theory:
Seduction, a topic I spoke and presented about at last year's O'Reilly Web 2.0 Expo, is now being more compellingly addressed by some great people. I've seen most of these talks and they're all fantastic.
There are quite a few panels in the same vein as my "Re-invent the Wheel" talk, addressing the process of design:
Content Strategy, the idea-whose-time-has-come of 2009, is on the march!
And this is one I wouldn't want to miss for the world. Some of my favorite people in the business all on one panel:
I feel like I am putting together my own SXSW schedule here. I unfortunately had to miss it last year, but do hope to show up this year. Thanks for your support!!