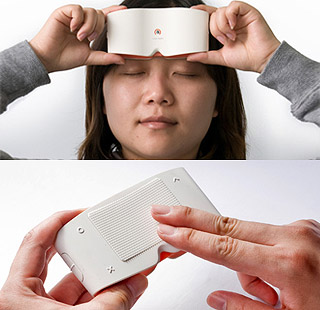 For my entire design career,  my colleagues and I have wrestled with the terminology we use to segment and focus our work, both in our careers and in our critiques. Whether it's the "information architecture vs. interaction design" debate or the "visual design vs. graphic design" debate, our neat little linguistic boxes don't always seem to be able to contain the conversations we have about our work.
The term "look and feel" has been particularly troublesome. Too often it is used to simply mean "visual design" — that is, just the "look" part — with the "feel" part understood as simply a polite nod to the fact that visual design has an emotional aspect.
Andrew Crow at Adaptive Path suggests that, because of this kind of abuse, "look and feel" should be discarded.
I propose that we never use the phrase "look and feel" again. Ever.

Visual design is often subjective and can be difficult to describe or judge. Often, people lack the language or understanding of the work to accurately express their opinions. Consequently, we use simple terms of the way an object "looks" or how it "feels".

Speaking in terms of these qualities does a disservice to the design. We cheapen the value of the work by paying attention only to the superficial aspects.
I think he's being a little hasty. How is the term "visual design", which Andrew uses here and repeatedly throughout his essay, any better than "look and feel"?
"Look and feel" at least suggests (indeed specifically acknowledges) that the surface-level user experience involves more senses than just the visual. In contrast, "visual design" often dramatically constrains the conversation about our work, and indeed might even constrain the scope of responsibility for a person working under that title.
I've always interpreted the "feel" part of look and feel to mean not just the emotional aspects that are usually associated with it, but also the tactile (or seemingly-tactile) effects of how a UI moves and transforms, how it sounds, the speed and pacing of the unfolding experience, its overall voice and personality, and countless other ineffable qualities of visceral experience. "Feel" can include words and language, transitions, motion, rhythm, haptic feedback, symbolism, melody, texture, temperature, and much more.
So while I agree that "look and feel" is often abused, it is precisely the conflation of (a) the vast potential of that term with (b) simply equating it with "visual design" that is the essence of the problem. Replacing "look and feel" with just "visual design", as Andrew seems to perhaps unintentionally suggest, would only make matters worse. The scope of the term "visual design" simply cannot contain those aforementioned ineffable aspects of user experience, which is why we cling to "look and feel".
While I confess to using both terms every day, I do think they are often insufficient for effective design communication. But simply throwing away "look and feel" isn't a solution. We either need a more powerful and understandable replacement for "look and feel", or we need to do a better job investing the conversation around "look and feel" to include those ineffable qualities. We need to ensure that we can have broad critical conversations about what Christopher Alexander calls "The Quality Without a Name" (QWAN) and that we can have narrow and focused critical conversations around the technical nuances of visual and graphic design.
I'm conservatively inclined towards the second approach: evangelizing a new and broader understanding of what "look and feel" means in the universe of interaction design. But I'll admit that, Alexander's declaration of namelessness notwithstanding, I am quietly and subconciously thinking of new names.
[This post's title is the a tribute to one of my favorite drone/dub bands, seefeel]
[audio:seefeel_climactic_phase_3.mp3]