Let's say you own a big building full of valuable stuff. How do you make sure that the night watchman patrolling your factory floor or museum galleries after closing time actually makes his rounds? How do you know he's inspecting every hallway, floor, and stairwell in the facility? How do you know he (or she) is not just spending every night sleeping at his desk?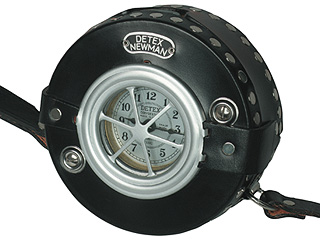 If you're a technology designer, you might suggest using surveillance cameras or even GPS to track his location each night, right? But let's make this interesting. Let's go a century back in time to, say, around 1900. What could you possibly do in 1900 to be absolutely sure a night watchman was making his full patrol?
An elegant solution, designed and patented in 1901 by the German engineer A.A. Newman, is called the "watchclock". It's an ingenious mechanical device, slung over the shoulder like a canteen and powered by a simple wind-up spring mechanism. It precisely tracks and records a night watchman's position in both space and time for the duration of every evening. It also generates a detailed, permanent, and verifiable record of each night's patrol.
What's so interesting to me about the watchclock is that it's an early example of interaction design used to explicitly control user behavior. The "user" of the watchclock device is obliged to behave in a strictly delimited fashion.
But before I go into the interaction theory at work here, let's look at how the watchclock system works in a little more detail. The fundamental innovation — the trick, if you will — is that the device itself is only one part of a larger, external system.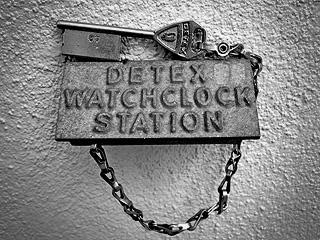 The Key is the System
The key, literally, to the watchclock system is that the watchman is required to "clock in" at a series of perhaps a dozen or more checkpoints throughout the premises. Positioned at each checkpoint is a unique, coded key nestled in a little steel box and secured by a small chain. Each keybox is permanently and discreetly installed in strategically-placed nooks and crannies throughout the building, for example in a broom closet or behind a stairway.
The watchman makes his patrol. He visits every checkpoint and clicks each unique key into the watchclock. Within the device, the clockwork marks the exact time and key-location code to a paper disk or strip. If the watchman visits all checkpoints in order, they will have completed their required patrol route.
The watchman's supervisor can subsequently unlock the device itself (the watchman himself cannot open the watchclock) and review the paper records to confirm if the watchman was or was not doing their job.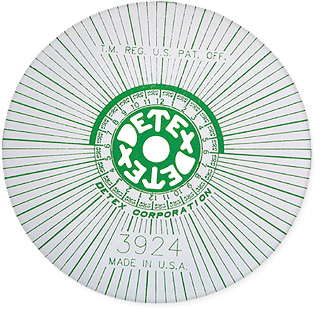 This is an idea with long legs. The watchclock is built like a revolver, of good old fashioned brass and steel and encased in a thick leather holster. It requires no batteries and almost no maintenance. The "guard tour patrol system" concept, too, has a timeless elegance. The mechanism itself has barely changed for a century: although some more recent models incorporate GPS and other technologies, the mechanical key-based watchclock system is still in wide usage, with many buildings still employing the same keys and the same clockwork devices they've used since the 1940s. It's a genuine example of an "if it aint broke, don't fix it" kind of technology.
From a behavioral perspective, I find the watchclock fascinating not simply because it's a kind of steampunk GPS, a wind-up mechanical location-awareness technology. I'm further fascinated at how this holistic system of watchclocks, keys, guards, and supervisors succeeded so completely in creating a method of behavioral control such that a human being's movements can be precisely planned and executed, hour after hour and night after night, with such a high degree of reliability that almost a century goes by before anyone thinks of ways of improving the system as originally conceived. The watchclock is a primitive form of technology-mediated interaction design and narrowly-focused social engineering: The "interface" is the whole system: The watchclock, keys, and paper records.
Designing for Control
Many in the interaction design field(s) argue that user experience design most definitely is not about behavioral control, or at least it shouldn't be. Dan Saffer entitled his excellent book "Designing for Interaction", the "for" being a nod to the idea that users don't need to interact with systems in exactly the way the interaction designer intended or envisioned. Interactive systems — whether social networks, desktop apps, or multiplayer online games — often shine best when users break the rules. Systems that explicitly and deliberately give users the freedom to interact in creative and unforeseen ways are some of the most interesting and powerful kinds of interaction design.
But the watchclock is another kind of interaction design, one whose function corrals the user into a single, linear, constrained sort of behavior. The night watchman has a fundamental social constraint — the desire to not get fired from their job. This constraint allows the watchclock patrol system to work so effectively (some would say insidiously) as an interaction design instrument of control.
As a former game designer, I think it's important to recognize that a really fun user experience will often exist somewhere between these poles of freedom and control. The player can kill the bad guys in whatever clever way she wishes, but she's got to collect the three crystals to operate the teleporter — there's no other way off the ship, and no other way to get to the next level. (I wonder if it's more than a coincidence that so many systems of controlled-play in games involve the use of keys, just like the watchclock.)
Giving a user freedom to interact however they wish seems admirable in principle, but requiring the user to jump through precisely the hoops you, the designer, want them to jump through is also a powerful way to create an emotionally and intellectually compelling experience. In a practical sense, it's also a way to make sure that the user doesn't get frustrated or even fail to do what they really need to do.
The watchclock's user experience isn't compelling or stimulating, to be sure, but in my mind it is truly an archetype of the "behavioral control" side of interaction design.