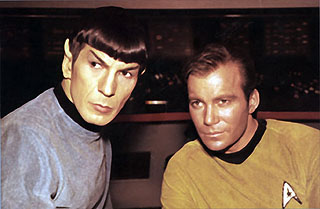 Design is often characterized as a collaboration between two entirely different modes of thought — logical thinking and emotional thinking. In the various fields of design for interactive products, I think these different modes may be starting to manifest in the job titles we give ourselves.
Catriona Cornett publishes a fun and insightful, and cleverly conceived, blog called inspireUX, in which she regularly publishes short and thoughtful quotes from UX people, some famous, some not so much, but always interesting and inspiring. Quite often her quotation selections address these different philosophies directly.
Today's item got me thinking:
"Enough confidence to believe you can solve any design problem and enough humility to understand that most of your initial ideas are probably bad. Enough humility to listen to ideas from other people that may be better than your own and enough confidence to understand that going with other people's ideas does not diminish your value as a designer. True concern for the comfort and happiness of other people, including your users and your teammates."

– Larry Tesler in Designing for Interaction by Dan Saffer on what makes a good interaction designer
The last sentence is key. I suspect sometimes that a key difference between the temperament of people who self-identify as "information architects" versus "interaction designers" is increasingly turning out to be empathy. All UX people claim to possess this quality, and Larry Tesler isn't the first to point out its necessity as a design skill. But is it really a quality found in equal amounts across all IA/HCI/UXD professionals?
I've noted before that many, if not most, of the practicing IAs I've known seem, at least to me, to have major difficulties with the whole empathy thing, preferring instead to "geek out" on the design itself. They like to dive deep into structure and logic and organization, often at the expense of stepping back and imagining how others will experience a product. And for many IAs the ability to do that kind of deep structural dive and understand the full implications of information and process design options is precisely what makes them really great at what they do — designing seamless, efficient, logical, powerful interactive systems. I mean that.
The plethora of UX tools and exercises, from personas to mental models to contextual inquiry, designed to enable IAs to break out of that logical focus and to get "into the heads" of their users bespeaks, I sometimes think, the degree to which that audience needs those tools. Not that all designers can't benefit from a deeper understanding of their users and audiences, but somehow the degree to which the IA and HCI communities seem to crave these tools, to a degree that many other design professionals don't come close to, may be telling.
Self-identified interaction designers, however, seem to — almost by definition — center their thinking around users. Even the job titles suggest a different focus, on things versus people: Information architects architect information. Interaction designers design interactions. Some designers seem to naturally conduct many of the aforementioned empathy exercises almost subconsciously, I've seen, and are able to articulate their imagining of user experiences in a way that is often the instantaneous equivalent of a time-consuming mental model or persona exercise. It's an emotional skill, I think.
Of course I am going to say this: Both modes of operation, logic and emotional design, are valuable, and in fact they compliment complement each other. And often both modes of thinking are found in the same person (which might explain why so very, very many of us are deeply torn between calling ourselves information architects versus interaction designers).
Of course, I could be 100% backwards here, or just plain 100% wrong. What do you think?
(Post title, of course, stolen from David Armano)