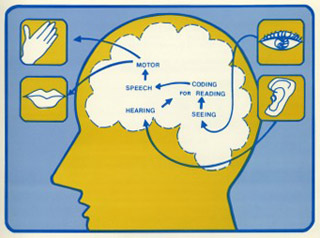 Like every other advanced human activity that can be taught and learned, there must exist a set of fundamental skills required to use interactive things. I'm not talking about behind-the-scenes design or development skills, but end-user skills. Not just what used to be called "computer literacy" (although that's part of it), but more basic cognitive and motor and physical skills. Skills analogous to riding a bike, drawing a portrait, writing a business letter, multiplying numbers, or frying an egg.
Take something super-simple, like clicking a link in a web browser. Any designer who has ever attended a usability test, or watched their relatives use computers, will probably have witnessed perfectly competent and computer literate people double clicking links on web pages, just as they would do with a file icon on their desktop. Clearly such users are muddling through just fine, but with a little less than what might be considered optimal computer skills.
Off the top of my head I can come up with a dozen or so skills that people who use interactive systems must learn to be successful — skills that are, however, deficient in a large number of users I've witnessed in user testing:
Point a mouse at a target
Construct a simple Boolean search
Rotate a 3d object with a mouse
Move the cursor around the page with the keyboard
Select text — whole words, paragraphs, multiple pages
Cut-and-paste text
Resize an image
Zooming and panning
Use a trackpad instead of a mouse
There are many angles to this idea: Someone who is great at using Excel may be a total klutz when it comes to using Google Earth. An expert at a twitch-shooter video game may not be able to use a search engine to research a report. People who can pan and zoom with a mouse may still have a very hard time with navigating a folder hierarchy.
And of course many of these skills can be dramatically shaped by physical and cognitive disability (which makes me realize that there are different skills that disabled people must learn, for example navigating the web with a voice browser).
The difference between a product's success and failure with a given user might come down to a simple degree of mastery of some of these basic skills — not, as we often assume, some conceptual misunderstanding of the product itself. Should designers identify their users' expected skill levels to this level of detail? Should these skills be reflected in user persona documents?
It would be interesting to gauge how well users do at these low-level skills in a survey or broad-based user study, a comprehensive test of basic skills much like the standardized tests schoolchildren are given. I'd be interested in seeing the test results show not just an overall computer skills course, but a breakdown by skill sub-areas: Hardware skills, search skills, text manipulation, image manipulation, 3D object manipulation. That would be fascinating.