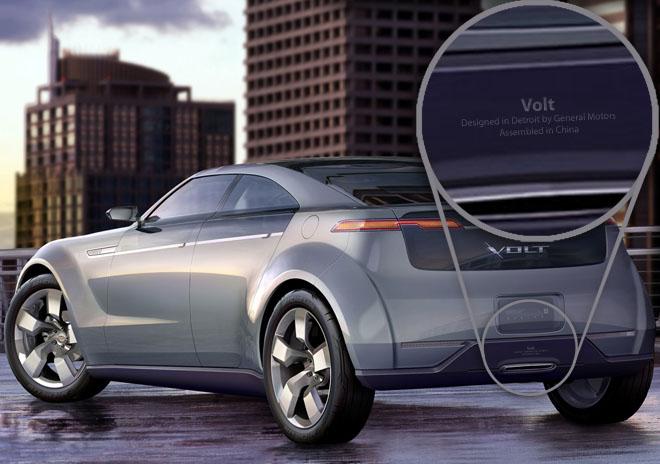 I am a 37-year-old user experience designer, and I don't have a driver's license. I don't even know how to drive a car. I moved to New York City when I was 18 and I just never really needed to learn.
Moreover, I don't even find automobiles all that interesting or seductive, at least not the ones I see on the streets today. They're certainly not, as they were a half-century ago, a glimpse into some hopeful and mind-boggling future. Rather, to me, the automobile is a symbol of a bygone era of American industry, culture, and lifestyle.
Because of my obvious dispassion for car culture, I think I can offer an unconventional and hopefully useful perspective on the struggling American auto industry.
I mean, everybody else seems to have a theory about how to save Detroit. And I'll admit that I find myself reluctantly sympathetic with those who are calling for a radical, technology- based transformation of the business. Whether admonishing the industry to "Stop Building Cars", encouraging a conversion to a design-based auto industry (some flat out asking "What if Steve Jobs ran GM?"), scolding the automakers while debating bailing them out (it's amusing to hear Senator Richard Shelby chiding the automakers for their lack of "inn-o-vation" in his Alabama drawl), or Andy Grove pushing Intel to invest in critical battery research for electric cars, it's clear that many people think the American auto industry's ultimate salvation will be in cutting-edge technology and design.
I find myself frequently nodding my head at these suggestions. The tech geek in me agrees that there is something the tech business is doing right that the auto business is doing wrong.
What is it? Well, it's two things.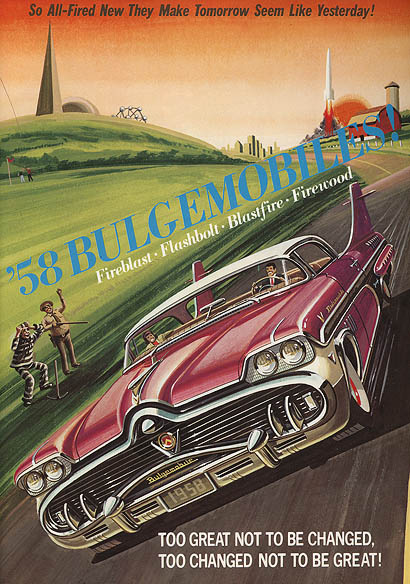 Design
The first problem, what everyone focuses on, is the product itself. The design. The whole "car experience", which really hasn't changed much in decades. AFAIK, the only truly important developments in the last 25 years have been hybrids and GPS.
And from the industry's perspective the most significant and successful design innovation has, ironically, also been the instrument of its recent decline: the outrageous and gluttonous giganticness of SUVs (which really isn't all that innovative when you consider the gigantism rampant in automotive design of the 1950s).
It all seems so dead to me. My desire to learn to drive — to the extent that it exists at all — feels on an emotional level similar to my desire to smoke a cigarette, own a beeper, rent a videotape at Blockbuster, or sign up for 600 free minutes of AOL. Which is to say that the whole idea (of driving!) seems silly and old fashioned and lame.
It's easy for me to imagine a hundred ways that cars could be better — from energy efficiency to user experience to aesthetics, or even fundamentally rethinking the infrastructure of highways and roads and parking. Plenty of other people are also describing Detroit's many design and technology shortcomings elsewhere. If it were not for the fact that the auto industry is still an integral part of my country's economy and the livelihood of millions of Americans, and if the auto business hadn't in previous generations worked at technology's bleeding edge, I'd be completely apathetic about the whole question of automotive user experience design.
Unlike many of my peers (most of whom drive, of course), I can barely muster up enough interest in the fate of the auto industry to bother to speculate about the details of how cars might be improved from a design perspective. It's like trying to get excited about designing a new kind of whaling harpoon or devising a new kind of portable CD player. I mean, who cares? What good will it do?
But that is precisely the problem: How can we expect innovation from Detroit when creative and technology workers like myself have no desire to lift a finger to help the automotive business? And forget about me, middle-aged and settled in my web career: Why should a 22-year-old technology or design whiz kid want to build cars when they could be working with far cooler, more exciting, and less environmentally-damaging technologies?
Designers
Don't get me wrong: Plenty of extraordinarily talented and inventive people work in the auto industry. But it's just not at the same level as the excitement and innovation we see in design on the web, on our mobile phones, and on our desktops. It doesn't resonate with the public imagination.
I ask myself this question: "Would I want to work there?" Or one of my friends and colleagues? A talented young software engineer? A recent design-school graduate? As a future-thinking knowledge worker, someone like me should be strongly tempted to work for an auto company.
The biggest problem is not that the auto companies are making products consumers don't want — people will continue to buy cars and muddle through the lackluster design and user experiences, the outrageous fuel costs, the physical danger, and the unconscionable pollution. No, the real, long-term problem with Detroit is that the automakers are just not the kind of companies the next generation of innovators will want to work for.
I don't know the answer to this, particularly from a public policy perspective, but it's important that we all frame the real question correctly. It's not about the design, it's about the designers. It's about the workers.
(NOTE: I hate to seem sympathetic with the techno-futurist camp. There's something terribly elitist about scolding Detroit for not being like Silicon Valley. It's unforgivably crass to suggest that we just let the automakers precipitously fail and let their workers drift into unemployment and poverty. There is knowledge and talent in the industry today, know-how that needs to be used to make the new auto industry even better. A sudden lurch into industrial calamity, with an eventual triumphant rebirth in California garages, sounds like an idealistic and romantic story. But it's not so romantic to the hundreds of thousands of people without a paycheck. The solution needs to be driven by practical needs, not dramatic storylines.)