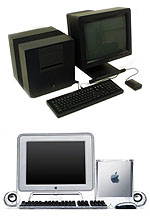 Discussing his upcoming biography of Steve Jobs, author Leander Kahney describes Apple's prototyping process:
It's a process where they discover the product through constantly creating new iterations. A lot of companies will do six or seven prototypes of a product because each one takes time and money. Apple will do a hundred — that's how many they did of the MacBook. Steve Jobs doesn't wake up one morning and there's a vision of an iPhone floating in front of his face. He and his team discovered it through this exhaustive process of building prototype after prototype.
Clearly Jobs wants to see his team exploring hundreds of prototypes of his products before a final version is sent to manufacturing. But when asked in a video interview about his experience hiring the legendary graphic designer Paul Rand to design of the NeXT logo, Jobs said he admired the fact that Rand (perhaps arrogantly) proclaimed that Jobs would only get one logo for his engagement fee. Rand would not show Jobs a menu of variations to choose from, nor would he show a selection of rough drafts and allow Jobs to provide feedback so that Rand could go back to the drawing board to produce a final candidate. There would be no process at all, no open exploration — Rand would simply give Jobs the best logo he could provide, and then Jobs could take it or leave it.
Why would Jobs admire Rand's process so much when he runs Apple's design team in exactly the opposite fashion? Is it simply a matter of Jobs being a sucker for Rand's monumental ego (and, of course, his stunning track record) while still being a absolute monarch with his own internal team?
This touches on a bigger issue in the design profession: When should a design process spend time on a broad exploration of many options, and when should a designer or design team focus on perfecting a single promising idea?
My inclination is almost always to explore as many options as possible, only settling on a final direction when practical constraints force me to get busy finishing the product.
Of course, this is just one school of design. Clearly many other designers prefer to finish their explorative thinking early and to then invest the bulk of their effort on perfecting the product. Still other designers are simply incapable of coming up with more than a small number of ideas — or they are temperamentally prone to become extremely emotionally attached to their earliest ideas.
In which contexts is a quality-based process actually preferable to a quantity-based process?