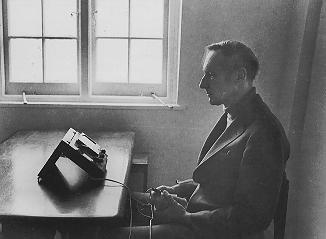 I have a tendency sometimes to be skeptical about user research in the design process. This is mostly because so much of it is, IMHO, (a) just fundamentally bad (e.g., employing sloppy research methods or hamfisted statistical analyses), (b) flatly dishonest (e.g., dressing unscientific research in pseudo-scientific drag in order to justify a desired result), and (c) runs against what I think to be effective design methodologies.
I'm beginning to think my distrust runs even deeper. So deep that I fear I may be gaining a reputation as a "research curmudgeon" who'll always have a knee-jerk dismissal of any new or clever techniques that pass under my nose. This may be true — I may be overly skeptical sometimes.
But now I think I can explain it with a little more nuance than before, and offer a new and largely positive perspective on research as part of a design process.
In the past, my scorn for user research has been aimed at everything from baroque user persona proceses to no-duh eyetracking studies. The latest technique I reflexively scoffed at is "modemapping" (pointed out to me by David Armano), a technique developed by Stuart Karten Design. Thinking more about the potential uses of modemapping made me realize that my scoffing was not directed so much at the technique itself, but that, instead, I have a deeper problem with the formalization of design research in general.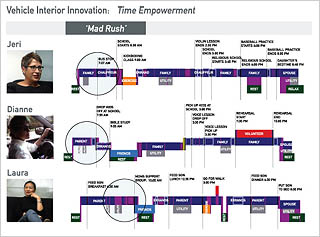 First, what is modemapping? Well, it's not so much a research gathering technique as it is a method of interpreting data. To produce a modemap, researchers first interview and observe users (no differently than they would for any sort of primary ethnographic research). Then they use the data to diagram each user's behavior on a timeline-like chart. The resulting "modemaps" visually distinguish between different types or modes of activity a person may find themselves in during a given timeframe, such as during a typical weekday.
To someone like me, a lover of information graphics (and in particular of timelines), modemapping did have an immediate visceral appeal.
When I thought a little more about modemapping, however, I asked myself: Could the observations gleaned from these modemaps really be any different from — or better than — the observations that a good researcher could have gleaned simply by conducting the interviews, reading the transcripts, and watching the videos? Is this just a way to spend an extra week or two of research budget to develop fun graphics? Is this just infoporn that looks hot but doesn't reveal new information or insights about the underlying data?
But then I realized that this kind of seemingly-pointless abstraction is exactly what I do when I make a jump from facts to ideas, from thinking to designing. For me it's not the diagram or the artifact that matters. It's the process of making the diagram that produces innovation. The most powerful design insights do not simply emerge from the diagram for any third-party viewer to read as if they were reading a billboard. More likely the design insights enter the mind of the diagram-maker while they are assembling it. The final modemap artifact simply serves as a tool to explain the designer's inspirational process to other people (non-designers, especially, but also to other designers) in the hopes that the customers of the diagram (whether they be clients or collaborators) may understand the merits of the design. The diagram may even, in fact, be let incomplete or even discarded upon completion if the design insights may be better expressed through another means.
My Design Process
When I am designing, I almost always do tons of research first. But at some point I will start doodling and sketching different ways of making the data mean something. I try to visualize and organize the facts into systems. I'll go through dozens of quick and wildly different sketches of how the data might fit together, almost always with no idea of how the sketching process will end up.
Quite frankly, much of this time might even be spent staring into space and just thinking, visualizing the data in my head. Sometimes the resulting sketches will resemble or even closely conform to known data interpretation techniques such as mental models, flowcharts, affinity diagrams, Venn diagrams, quadrants, and many others. I've probably used half the techniques in the visualization periodic table without even knowing it.
The "not knowing it" part is where my user research curmudgeon-ness comes in. I have a passion for letting my mind wander freely and letting it discover revelatory and meaningful visualizations. Rather than letting the visualization lead my idea process, though, I let the idea process generate the visualization. Because I prefer this way of thinking and designing, I have an immediate disdain for any methodology that purports that a particular data interpretation or visualization technique is the right one for a job. How can a great designer know what tools they will use before the design process begins? They simply can't.
It's a fundamental quality of design thinking, I suppose, to let the ideas determine the process. What veers us away from design thinking and towards (for lack of a better term) business thinking is the formalization of a research and research interpretation process. Instead of asking researchers to bask in the data using whatever methodology suits their temperament and idiosyncratic thought process, commercial design culture often asks the design researcher to fit their research into a proscribed process, in this case the "modemapping data interpretation machine". The techniques themselves don't demand this — the demand for pre-planned processes comes from business constraints where customers need to know what they are paying for.
This is a real conundrum for the research-minded design thinker who needs to keep to a budget: How do you sell a research-based methodology if you cannot say for sure what research-interpretation method you will use? How do you productize or justify the value of "staring into space for a few hours thinking about the problem", or "sketching in a moleskine for a few days"?