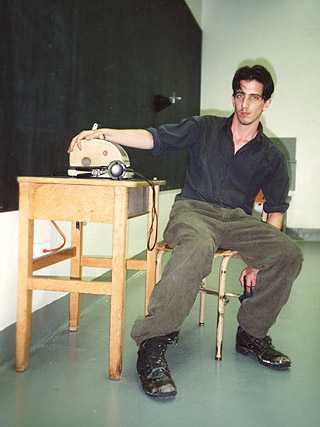 I've been in some interesting discussions lately about "design thinking", in particular with respect to the question of education: How are business and design educations relevant to the management of a design-centric business?
One of my core objections to the "d-school" concept is that most of the curricula emphatically don't teach design skills. Instead, they teach "design thinking", which is said to be a way of approaching problem solving that is inherently different from, I suppose, business thinking.
Well, like a fish who doesn't know that he is wet, I have no idea what it is like to not be a design thinker. And I suppose that, conversely, a lot of people who talk about design thinking have no idea what designers are actually taught. Are we really taught different skills than our MBA counterparts? Is there really something unique about what designers are taught, about how we think?
To answer those questions, I thought it would be useful to simply talk about what I learned in art school. I'm not talking about the specific skills and crafts — I learned how to cast acrylic resin, how to weld steel, how to do 3D modeling, how to paint in fresco, and how to etch a circuit board — although I do strongly believe that hands-on design experience is crucial to being a good design leader.
Instead, I am talking about the broader and more resonant skills I've learned that have helped me both as a designer and as a business person.
This is meant to be a dialogue. If you went to art school, did you learn these kind of things? More importantly, if you didn't go to art school, did you not learn these things?
Without further ado: In art school, I learned:
How to champion and defend my ideas.
How to distinguish between personal and professional critique.
How to respectfully and constructively critique my peers. How to attack the ideas of my colleagues and still have drinks with them that same night (and maybe even sleep with them — hey, it is art school)
How to test drive a hundred different ideas through sketching, cobbling, and envisioning them, before finally settling on which one to go ahead and build.
How to tell when I am done a project that could just as easily be improved endlessly.
How to tell when an idea that is precious to me is actually holding me back. And then to feel good about throwing it away.
How to have the confidence to present my ideas in public without fearing that they will be stolen. And how to take it in stride when they inevitably are.
How to distinguish between taste, technical skill, and empirical efficiency.
How to detect bullshit, and to avoid generating it myself (note that not all art school grads learn this).
How to go the extra mile to make something high-quality.
How to recognize talent in my peers.
How to collaborate with my colleagues effectively to reach a common goal.
How to be deeply competitive without being a dick.
How to make something new just for the sake of being new.
How to build off of, and give credit to, the ideas of my predecessors both contemporary and in history.
How to save ideas that I'm not ready for and keep them for future use (usually in sketchbooks).
How to start all over again from the beginning.
How to teach all of the above.
I'm sure I could go on. Let's just say that I definitely apply a lot of these lessons in my job every day, both in my own designs and in the way I work with my teams. Does this make me a design thinker?