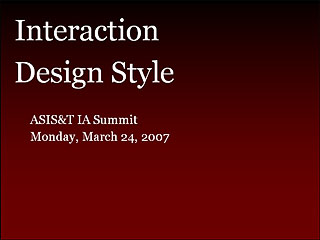 It's been a little less than a week since my IA Summit presentation. To my great surprise, it went really well. I mean really well. In the next day or so I will be posting a summary of my experiences preparing and discussing my topic, which was, in a word, style.
Many people came to me after my presentation asking me not only to post the slides themselves, but also to post the reading list since I did discuss a lot of books and sites that deeply influenced my thinking. So here's all the stuff:
Slideshow
Reading List
These readings are in roughly the same pedagogical sequence that the concepts appeared in my presentation. Note that not all of these were actually cited in the talk, but I did have all of them either at hand or in mind as I wrote.
(My strongest recommendations are indicated with a

icon.)
Stewart Brand's Opinion on Fashion and Style
History of Style and Style in Other Disciplines
Style Culture & Style as a Virtue
Style and IA Methodologies
Design Thinking
Corporate Design Pattern Libraries
Design Patterns for Interaction Design
Christopher Alexander & Pattern Languages
Web Style Repositories/Galleries
And, of course, none of this would have been possible without Wikipedia and Google Images.