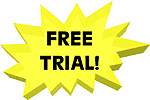 As a UI developer, I want to be an "early adopter" of as many new technologies and gizmos as possible. Even if they're clunky, non-helpful, efficiency drain tools, I feel like it's my obligation to be well-informed about the latest gadgets and websites. So I'm often downloading trial versions, and occasionally checking out a friend's new gizmo to see what I think of it.
But simply looking at or playing around with a new high-tech product isn't enough, though. To be a true "early adopter" you have to adopt — you have to integrate the new technology into your life, not just play around with a trial version for a few minutes to see how it feels.
The problem, though, is that so many new technologies turn out, after you've tried them out, to really suck, but it sometimes takes more than just a few minutes to figure that out. Sometimes only after using it for a few weeks do you realize that the gizmo actually makes your life more complicated, not less. Sometimes you may not ever realize it at all, and find yourself stuck with a mobile phone or a productivity app that has made you less efficient than you were with the older technology. You might be using such harmful technology right now!
I remember when I used to fantasize that my PDA would replace my paper sketchbook. Ultimately I realized that simply writing stuff down on paper was far better for me. If it ain't broke, don't fit it.
Of course there is also the option of not having a particular kind of technology at all. Does having a mobile phone increase productivity? Some would argue that it's not a necessity at all. Do you really need a whole separate desktop program to tell you the weather outside? If you work on a computer 10 hours a day anyway, does having a web browser on your phone really make your life any easier? Does registering for a new social bookmarking app really help you become a better, happier, more informed person?
Another way of thinking of this is by asking: Can a technology, once adopted, be subsequently eliminated from our lives? I can think of one example where it has happened: I do not, for example, use a wristwatch, and of the few people I know who do wear them, they think of them as jewelry.