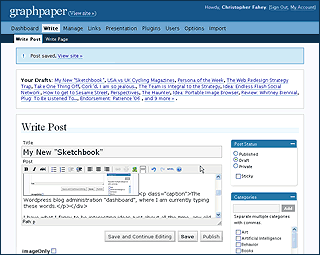 I have what I fancy to be interesting ideas just about all the time, and usually when this happens I like to start scribbling in my little portable paper sketchbook.
After blogging for only a few months, however, I now find myself rushing here instead, to my WordPress dashboard, to quickly jot down a few words — sometimes as little as a three-word title — and saving it into my growing list of unfinished blog drafts.
For those unfamiliar with WordPress or other content managment software, most blogs let authors save many unfinished posts as drafts before we actually "publish" them. I do this all the time. Later, I can work on these unfinished fragments from anywhere, whenever I feel ready to do so. I have over twenty of these fragments right now, some days old, some months old.
This is exactly how I work in my physical sketchbook, too. In fact, sometimes I wonder if using WordPress to express my ideas will diminish my output of drawings on paper, or if, instead, blogging will simply provide an additional channel — especially since the whole point of this site is to allow me to publish my sketchbook ideas fluidly and seamlessly alongside those ideas that come out as words. I think the latter is happening. I think I'm starting to get a feel for the voice and the beat of my blog, my publishing rhythm.
[Bonus: Can you find the paradox in this post?]