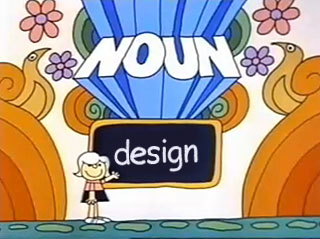 There are two ways of writing nouns in the English language: you capitalize proper nouns and you don't capitalize common nouns. There is an unfortunate tendency, however, for people to think that you can elevate the importance and even the definition of any old common noun simply by capitalizing it. To me, this is the typographical equivalent of using "unnecessary" quotation marks to indicate emphasis.
There are some words, of course, that legitimately have this quality, for example God with a capital G is different from god with a lowercase g. Brand names often co-opt common nouns, too, and create new proper nouns: There is a difference between "facebook" and "Facebook", for example.
But we can't just make new proper nouns up for no good reason. I am thinking specifically about the increasingly common use of the phrase "Design with a capital D", or even the unqualified casual use of the capitalized "Design", whenever a writer seeks to discuss the broader category of all design disciplines from the many smaller, more focused design fields which also use the one-word "design" to describe themselves (fashion design, interior design, graphic design).
Even at a purely grammatical level, this is wrong: you simply cannot capitalize the word "design" because it is not a proper noun. There is no grammatical rule that says that you can use capitalization to indicate the importance or scope of a word — I can't capitalize "Sports", for example, and say it means the philosophy and values of sportsmanship as opposed to the lowly playing of games. If you found a company or wrote a book or named your dog "Design" you might have a case for the capital D. But the concept of "design" is already in the dictionary as a common noun, with a lowercase d.
But, more importantly, I don't think we need to be making this kind of in-your-face overt distinction in the first place. The concept that design has several layers of meaning and scope is quite valid and useful, but the word itself is perfectly capable of encompassing both meanings.
The English language, like many others, has some lovely ambiguities and idiosyncrasies in it. These gaps and imperfections may sometimes frustrate us, but they also make us think about words more, what they mean and where they come from. They force us to pay more attention to context, which we really ought to be doing anyway.
When it comes to the various disciplines of design, I want to be frequently reminded that making a flowchart for a user interface and making a fabric pattern for a dress are closely related disciplines. I want to know that my own design discipline can learn from all of the others.
I would rather have readers assume that the word "design" by default means all of the diverse design practices — unless the author or speaker indicates otherwise, implicitly or explicitly. I don't think we're quite there yet, though: most designers think of their own niche design discipline whenever they hear the word "design". Still, capitalizing "design" is a crutch for both writers and readers, a short cut that excuses writers from explaining the interconnectedness of design, and excuses readers from embracing design more broadly.
Instead, let's just write and read more carefully, and let's keep talking about design as a family of practices. And let's also begin assuming the broader definition by default, unless told otherwise. Writers and readers will have to do a little extra thinking sometimes to figure out the meaning in any given context. But eventually the concept of design as a general way of thinking with many specific ways of practicing will take hold.