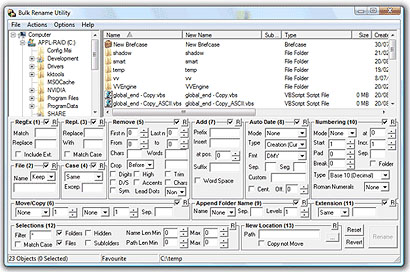 John Gruber invites public ridicule to the UI design of this file renaming application. And yes, it certainly looks terrible, like a stereotypical case study in haphazard, bloated, bad UI design.
But is the UI design really that bad? I'm not so sure.
As someone who has had to do all manner of complex and esoteric batch file renaming over my career, this tool looks pretty darn powerful to me. I've had to do some absurdly massive batch file renaming (hundreds or even thousands of files) about twenty times in my life, and every single time it's been a unique and bizarre challenge.
This is one of those tools where, at a fundamental level, more features is better than less. Fewer features make this tool less likely to serve its core function: saving your ass during a freak once-in-a-lifetime file renaming emergency. Even the wacky features like renumbering the files using roman numerals doesn't seem absurd to me. This tool is intended for people without ninja-like mastery of the black art of regex construction (and, for that matter, for office production workers who may not know how to program anything at all, for example a photo editor).
So if it's not the number of features that's bad, let's focus on the UI itself. The signature quality of this design is that every single feature is shown on one page. There are no layers of dialog boxes, no multistep wizards. The fields are numbered, too, which seems to suggest the order the transformations are processed. The entire transformation is right there for the user to see, no surprises. What's more, showing all the possible transformations on this one screen educates the user on what the application can actually do: No poking around through menus and manuals to find out what this app is capable of. It's all right there.
My only substantive critique, in fact, would be aesthetic: the grid of the page and the layout of the form elements could be more pleasing and better organized from an information design perspective.
Is that the nut of Gruber's critique? Or is he being a little hasty in his judgement here?