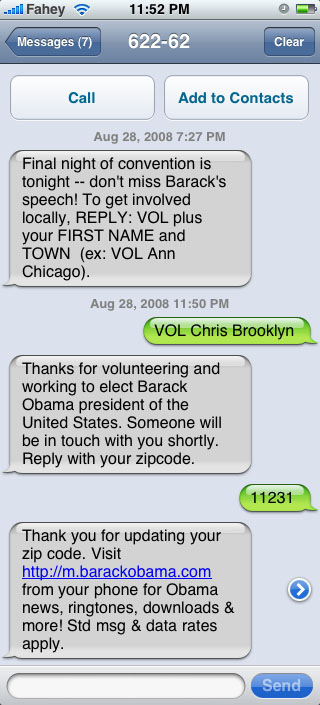 Barack Obama's speech was tremendous. He was strong, forceful, and honest while fighting tooth and nail for most of the fundamentally liberal ideals that I share — arguing them openly instead of filtering or even hiding them as most liberal Democratic candidates have in the past. And in the several places where he strayed from liberal orthodoxy, there were three or four times where I actually found myself changing my mind a little bit.
The most interesting example was his statement about the right to bear arms. He said:
The reality of gun ownership may be different for hunters in rural Ohio than for those plagued by gang-violence in Cleveland, but don't tell me we can't uphold the Second Amendment while keeping AK-47s out of the hands of criminals.
My reaction was, hey, you know, I think I now realize that I don't give a fuck if people in the sticks shoot the hell out of each other — as long as I can be damn sure that handguns are 1000% illegal here in New York City, I'll feel safe enough.
Obama let me imagine a future where the Second Amendment isn't a national issue at all except to the extent that localities are permitted the right to choose their own paths.
The idea that an adult in Montana should be forbidden from carrying a gun in their pocket just so I can feel safe walking home in Red Hook, Brooklyn now seems like more than just idealism or even ideology — it now feels like a kind of petty pedantry.
This is, of course, something enshrined in the United States Constitution, but that doesn't mean that we can't find a middle ground where Brooklyn and Montana can still have different rules. The Second Amendment's words are, in fact, ambiguous enough (notoriously so) for both approaches to be able to survive simultaneously in the same nation's legal landscape.
"Foolish consistency is the hobgoblin of small minds"… Flexibility is strength. Is it my deep concern for the safety of Montanans living in a gun-saturated state that made me so uncompromising about the 2nd Amendment? Or was it really just my own desire that I and my loved ones can feel safe in a crowded city with a history of staggering crime? I have no doubt it's the latter.
(I know this issue is more complex than I make it seem — the lax legality of guns in one state may of course negatively affect crime in a neighboring state where they are contraband… and of course if I had a relative in Montana I would be less flippant about their safety.)
Fight for the Future
Obama also brought the campaign fight back up to a respectable level (if only for the next 24 hours until the Republican campaign starts slinging the mud again). He was harsh in his attacks on McCain, but he explicitly asked us to judge John McCain not based on the consistency or inconsistency of his ideas, nor on whether his policies are driven by sincere conviction or crass political expediency, but rather to debate him and judge him based on on what his policies actually are right now. To do any less would be undignified and cowardly.
(What's more this argument undermines the misguided faith many independent voters seem to have that McCain is secretly less conservative than he says he is. The reality is that there is no secret maverick freethinking post-partisan John McCain hiding under his sleazy Bush-style right-wing campaign — the election is for the kooky throwback ultra-right-winger he says he is right now and that he says he will be as president.)
Obama threw down the gauntlet and made this campaign about what happens next, what happens tomorrow. The future.
After the first day's speakers, Democratic talking heads Paul Begala and James Carville thought this convention desperately lacked a single, simple message. They compared it to the 2004 GOP convention where the formulation "Bush is Strong, Kerry is Weak" was the resounding theme. But in my mind, all throughout the convention a theme was emerging: "Obama is the Future, McCain is the past".
So in the spirit of that future, I include above this iPhone screenshot in which an Obamabot summons me to help the campaign via a pre-speech SMS text message, and wherein I respond immediately after the real Obama's closing words. And wouldn't you know, the SMS conversation resembles a traditional call-and-response sermon, from the lectern to a rapt hall, where the speaker's call to action is echoed by the audience uttering a single simple cheer in response: Yes We Can! VOL [NAME] [TOWN]!