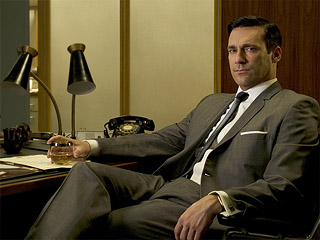 Upon a friend's recommendation, a couple of weeks ago I started following don_draper on Twitter. More precisely, I'm following whoever is Twittering and playing the role of Don Draper, the main character and fictional creative director of a 1960's Madison Avenue advertising agency on AMC's critically-acclaimed series Mad Men, now in its second season.
What's more, over the last two weeks Twitter has notified me that I am now being followed by peggyolson, bertram_cooper, and several other personages from Mad Men's fictional advertising agency, Sterling Cooper. I assume this is all part of an AMC-blessed ARG-style internet marketing campaign, and because of that I feel a little bit snookered.
You see, I at first assumed that don_draper was some kind of individual fan's Twitter-based writing project. Also, don_draper the Tweeter is, unfortunately, not nearly as interesting as Don Draper the character. Sucks to learn that I was pwned by marketers.
I do feel better about the fact that this campaign is limited to Twitter, however, where the characters' chatty tweets feel like time-warped, ghostly, telepathic musings from the past, voices from characters long gone. Thankfully, too, http://www.sterlingcooperadvertising.com simply redirects to AMC's Mad Men site instead of presenting us with some kind of anachronistic web site from 1962 (although a non-anachronistic, modern 2008 ad agency site, complete with a contemporary client roster and profiles of Sterling Cooper executives past and present would be a fun promo).
Why did I follow don_draper in the first place? Because as a creative professional — even though I work in a (slightly) different industry and even though it's 45 years later — I find his character absolutely inspiring and thought provoking. And a good deal of my fascination revolves around his professional skills and talents.
So what is it about Don Draper? In the first episode of season 2, Draper's boss Roger Sterling tries to explain to a colleague, "Duck" Phillips, what Don Draper is all about. Sterling tells Duck, "Imagine he knows everything you do about this business but thinks like a child."
Indeed, Don Draper the philandering husband is certainly childish in his tendency to always indulge his immediate desires. But Sterling was talking about Draper's ability to see advertising as an emotional appeal, based on our most basic childlike emotions of love, safety, desire, and fear. Draper's gift is his ability to understand these emotions while being a cunning businessman and a strong leader. He finds people's emotional buttons and presses them, whether it's understanding the hearts of his client's customers, tapping into his own clients' fears, coaching (or disciplining) his team, or drawing on his own pain and heartache — or all of these at the same time — he is able to devise, over and over again, advertising creative strategies that are simultaneously calculated and heartfelt.
I've got a few more blog posts lined up to talk about some of Don Draper's specific speeches and how they resonate for me as an interactive user experience designer. Stay tuned.
(UPDATE 8/26: Turns out the whole Twitter thing was an unauthorized project after all. And what's worse, AMC stupidly shut it down. Duh. I hope they don't shut me down after my next posts!)
(UPDATE 8/29: Looks like all the Sterling Cooper Twitterers are back up again. Yay AMC!)
UPDATE: Part 2 is now posted. Enjoy!