The following is in response to an interesting and thoughtful video and essay by Edward Tufte, posted on his blog/site, in which he argues, among other things, that many of the applications on the Apple iPhone do not adequately take advantage of the iPhone's screen resolution and its compelling and easy-to-use zoomable UI paradigm.
In one specific case, he advocates replacing the iPhone's Stocks application user interface with one that displays immensely more information in the same space. He critiques the Stocks app for the cartoonish UI design that wastes space with useless decorative graphic design.
You can see the iPhone's Stock app and Tufte's suggested solution side-by-side here.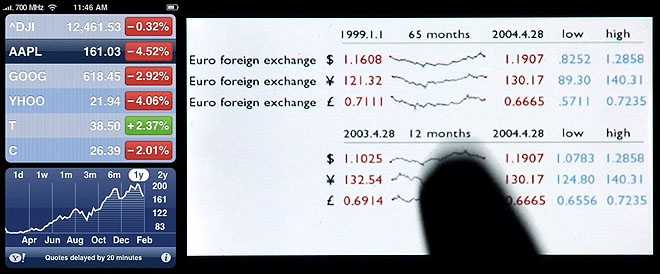 I submitted the following comment to his site, but apparently Tufte doesn't seem to think my critique is interesting enough to warrant passing through moderation :-(. So I am publishing it here on my own blog:
You are neglecting the fact that iPhones are *mobile phones*, designed to be used primarily by people on the go, or by people who are otherwise occupied. The cartoony UI screens are designed to be usable by people who are walking, talking, riding on a train or bus, waiting in line, bored in meetings, and (unfortunately!) while driving.

Typical iPhone usage lends itself well to the information-thin designs you criticize precisely because it does not attempt to do more than deliver the most important information in a heartbeat. The "image resolution" style of information design you advocate is great for someone using an iPhone while sitting in a comfy chair with lots of time on their hands, or for someone who posesses no other information platform (i.e., no desktop or laptop computer). But for most users, they will use the iPhone to informally keep their finger on the pulse, and use their main computer to actually think about and analyze data.

There is no need whatsoever for someone on their way to work or waiting in line for a sandwich to know what a stock is trading at down to the third decimal place, or for them to see a historical sparkline. In fact, I would contend that 90% of the benefit of the stocks app is in the colors alone — even if there were no numbers at all and just red and blue boxes, the design would be effective.
I find it ironic that Tufte is actually advocating the addition of more information to the screen, something which would seem wholly out of character for him. I suspect this is because he is thinking about the iPhone's UI as a graphic design challenge, not as a component in a larger lifestyle-based user experience. He doesn't view the iPhone as the object of delight that most iPhone users I know find it to be, and instead he sees it as a straightforward challenge of graphic efficiency. IMHO, he's overlooking the most important part of the user experience.
Resolution
I also want to add that Tufte's focus on the word "resolution" is revealing. He praises the iPhone itself for its high-resolution screen. He seems to extend the word's meaning, too, in an intriguing way to include the fact that the iPhone's zoomability effectively and elegantly increases the available screen resolution without adding what he calls "administrative debris" in the form of scrollbars, etc.
These are great thoughts, but is he playing with the meaning of "resolution" deliberately, or is he simply impressed with the iPhone screen's dots-per-inch? Perhaps another view into this question is through Tufte's insistence on posting his video as a 56-megabyte Quicktime file instead of as a one megabyte YouTube or Vimeo enclosure. He apparently cannot bear to post this video in a low-quality streaming video format, preferring crystal-clear resolution over ease and speed of use. This seems to relate directly to his more general fetishization of "resolution" as the saving grace of all screen-based communication.
From all of this, I am not getting a strong feeling that Tufte is up to speed on how we do things on the Internets these days.
If this is Tufte vs. Jobs, this one goes to Jobs hands-down.