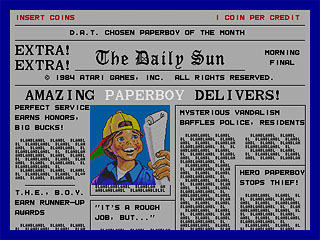 In today's Times, I read a story that included a fallacy that I'm pretty fed up of hearing: The accusation that web-based news and journalism is overly brief and shallow, that it caters too much to the short attention spans of ADD-addled youths, and that the web is ushering in a new era of crappy journalism:
[Panasonic President Toshihiro] Sakamoto said he has a "dream" of seeing a newspaper presented beautifully on a television. (I hate Internet news, he said; it's just a series of small sound bytes and quick updates. He'd prefer to see the entire paper).
I have to ask: Exactly which InterWeb is he looking at? Certainly not the one I am used to getting my news from.
My entire experience of Internet news has been deep and substantive, the polar opposite of this stereotype. All of the major news services have moved gracefully and effectively into the Web, IMHO. The most avid news consumers, too, now voraciously consume online news, including the new citizen journalism of blogs. So why does this myth persist?
I mean, it's not like there's any evidence. Newspaper web sites include not only the exact same full-length stories featured in their print editions, but they usually also contain tons of deeper content than their paper counterparts, such as background information, raw reporter's notes, news from other news services, plus more photography, audio, and video. Even TV news web sites run AP and Reuters news stories, not to mention uncut transcripts of their TV reportage, and go far, far beyond anything they show on the air.
Web news is everything print news and TV news is — and more. There's simply no way you can argue that Internet news isn't in every way superior in depth and quality to the news delivered in other media.
The only reasonable conclusion I can make is that people who argue this don't actually read news on the web but want to sound like they do. Maybe they watch short videos clips of news stories now and then, or read the home pages without clicking to read the actual articles. But they can't possibly be reading real news web sites and contend that the journalism is lacking in depth and quality compared to other media. I suppose they can't even conceive that the real news on the web is delivered in a traditional but time-consuming medium: Words.