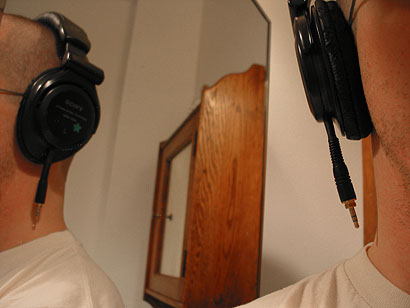 I bought Peggy a new pair of studio monitor headphones for her birthday last week. So now we have an extra pair of my favorite headphones, the Sony MDR-V600. I decided to try an experiment I've always wanted to do: To separate a pair of headphones from its cord.
My practical objective was in part driven by the onset of winter's cold: I wanted to figure out a way to use full sized over-the-ear headphones with my iPhone, without losing the ability to use the iPhone's wonderful on-cord control doohickey (which allows you to pause, play, or skip tracks, as well as being a hands-free microphone and call controller).
So I opened up the headphones, cut the cord down to only a few inches, and soldered the shortened cord to the contacts inside the headphones themselves. I closed everything up, and the result can be seen above.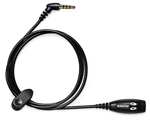 Now, what about the iPhone's clever controller cord?
Shure makes a nifty little doodad that does exactly this: it has all the functions of the iPhone doohickey, but instead of having any headphones of its own it allows you to plug your own headphones into the female socket on the end of it. Many users of the Shure cord complain about all the excess cordage that results from using this with a full set of headphones. But I think with these no-cord headphones I've managed to completely avoid that problem. I've just now ordered the Shures from the Apple Store, and I look forward to plugging these two things together and rocking out in the cold weather.
This idea, in fact, has been bouncing around in my head for several years, long before the iPhone. I've long thought that headphones, especially high-end headphones, should come in two peices: (a) the part that goes on/over/in your ears, and (b) the cord. Headphone cords could then come in a variety of lengths, colors, and features. So you could choose a 10-foot long phone-like coiled cord for use as you dance around to your latest track in your home music studio, or you could choose a compact lil' 2-foot cord for when you are keeping your iPod nano in your breast pocket.
In my original conception, the headphones would have no male plug on them at all. They would merely have a female socket, while the cords would be male-to-male. But since female-to-male headphone extension cords, like the Shure model, are a more common (and more useful) accessory, I opted for the female-to-male approach for the headphone cord.
Finally, I just realized that I can also simply plug an iPod shuffle directly into the headphones and go completely cordless, rocking out with a single dangling iPod earring.

UPDATE: Well, the Shure cord arrived yesterday, and the whole setup works great. The cord is short — just long enough to reach my pants pocket. It is not an inch longer than it needs to be. The sound quality is fine, the industrial design is solid. Success!