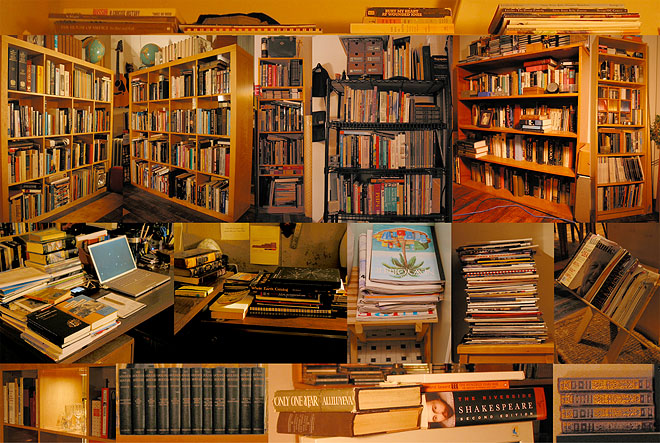 I'm not going to say much about Kindle — as an iPhone owner, I find both the device and the service colossally dumb.
But the breathless excitement over the supposed "death of the book" is even more preposterous than Amazon's little white elephant, especially to book lovers like my wife and me. For us, books, periodicals, and printed matter of all sorts comprise, quite literally, the very structure of both our intellectual and physical worlds. Books surround us. Our loft is subdivided into rooms using bookshelves. Every surface has a stack of hardbacks, paperbacks, and magazines on it. We both grew up surrounded by the printed word — looking at them, feeling them, smelling them — and we intend for our family to continue in that tradition.
Books are the building blocks of libraries, and our libraries reflect who we are. John Gruber's critique of Kindle as a profound rip-off for true book lovers is spot on:
So the Kindle proposition is this: You pay for downloadable books that can't be printed, can't be shared, and can't be displayed on any device other than Amazon's own $400 reader — and whether they're readable at all in the future is solely at Amazon's discretion. That's no way to build a library.
Here's a far better idea, one that book lovers who also happen to be technophiles would love: Bundle print and digital copies of books together for the same price, perhaps as a very small cost increase (say 5%) to the basic print price. You can think of it as a free digital backup copy, or as a digital reference edition. Other advantages include:
Scholars, journalists, and reviewers can use the digital copy for searches, citations, quotations, and literary analysis.
References to external sources can be clickable URLs.
Since so many digital book owners print them out, the bundling will inevitably save a few trees.
Having a digital copy precludes the need to print an index in the physical book. There's no need to even construct one in the first place — let users simply search it digitally.
While I still think DRM is evil, it wouldn't be quite so onerous as long as a physical copy was in my permanent posession.
John Gruber includes this fabulous Emerson quote in his review:
If you would know how a man treats his wife and his children, see how he treats his books.
Many of the core lifestyle and business ideas behind Kindle are, frankly, an affront to what I love about books. What is most surprising is seeing Amazon — of all companies! — treating book lovers in this way. This is not innovative thinking at all.