I thought it was a pretty bold design decision when Apple discarded the iPod's signature feature, the scroll wheel, in the iPhone and iPod touch. But the new scrubber bar is almost useless, especially for long tracks like podcasts where it's impossible to move the playhead any less than a few minutes per hop.
So I thought I'd just fix it, or at least show a little idea of how Apple might fix it.
For scrolling through menus and adjusting volume, the iPhone's new UI methods are, IMHO, superior to the old iPod's wheel. But the "jog dial" is still the ideal user interface for arbitrary positioning the playhead in audio and video tracks. It's a hardware solution that has been in professional and consumer use for decades.
And the iPhone and iPod Touch are totally capable of doing it. Here's how: When you touch the currently-playing album cover to reveal the scrubber interface, instead of only showing the playhead the screen shows the old iPod disc as well. You just roll your finger around the screen's virtual scroll wheel. That's it.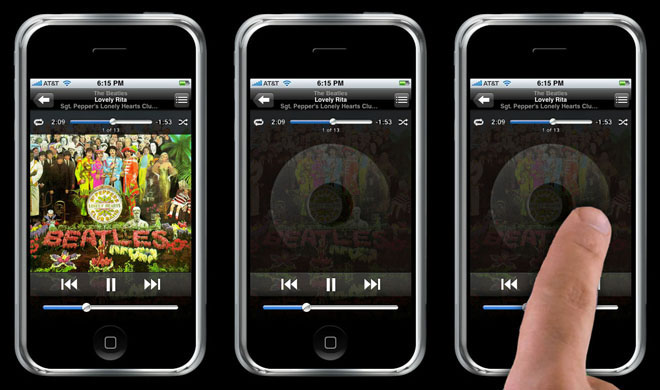 For the time being, here's a helpful tip for using the current UI: If you hold your finger down on the "skip to end" or "skip to beginning" buttons, the playhead will scroll quickly through the track.