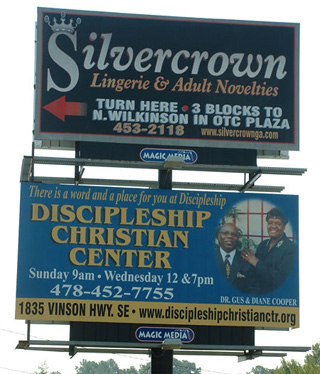 The opening sentence in today's Times Magazine cover story (about the state of political confusion in America's Christian Right) depicts a phenomenon I've long wondered about:
The hundred-foot white cross atop the Immanuel Baptist Church in downtown Wichita, Kan., casts a shadow over a neighborhood of payday lenders, pawnbrokers and pornographic video stores. To its parishioners, this has long been the front line of the culture war.
Indeed, whenever I travel in Bible Belt country or in so-called "red states", I am often struck by the absolute depravity and crass exploitation that I see all around me — in places where, as conventional wisdom would have it, the people are supposed to be the most morally upstanding Americans, especially when compared to people like me, an amoral atheist New Yorker.
New York City has its seedy side, of course, but what you see in the red states is way different. If you drive along the main highways of West Virginia, rural Pennsylvania, Texas, Indiana — almost anywhere, it seems — you are bound to pass long stretches of seedy strip clubs, quasi-legal gambling venues, drug and alcohol addiction centers, DUI lawyers, and corrupt check cashing places for miles and miles. You'll even see billboards for abortion clinics.
But among these you will also find a seemingly equal number of churches and religious groups whose primary mission is to save local people from the very businesses that operate next door. Driving down the highway it's a moral checkerboard: church, strip club, church, slot machines, church, payday loans, etc. These two opposing forces are literally positioned right next to each other, like opposing armies in WWI, entrenched a hundred feet apart. You get a distinct feeling that there is a war going on from door to door in thousands of American communities.
Maybe I just don't notice it, but I can't think of any part of New York City, or anywhere in New England, where you can find this kind of Sodom & Gomorrah right out in the open where families have to see it every single day. Which is why I'm often more than a little startled when I see gigantic billboards of ecstatic naked porn stars in exactly those parts of the country which are, by conventional wisdom, supposed to be the most righteous and moral places on Earth.
Can it really be that I have a puritanical streak in me? I personally don't find the sex businesses offensive, exactly– at best they're sad and stupid, and that's enough for me to not really want to look at them — but IMHO the casinos and rip-off lenders are downright evil and thoroughly destructive to society.
All told, you can hardly blame red staters for thinking that America is in a culture war when their highways are already raging moral battlefields. But the war is not what the media or the leaders of the religious right would have you think it is. It's not Blue States vs. Red States. I think the Times has it right: The front line is within the red states, where husbands are fighting wives, parents are fighting children, and neighbors are fighting neighbors.
Red staters, in turn, cannot blame New York and LA for their addictions to gambling, pornography, crystal meth, or easy credit. They should look to their own governments, Democrat and Republican, and into their own souls.
One might be tempted to attribute this phenomenon to simple moral hypocrisy, concluding that that the most religious people are, in fact, the most depraved (as seen in recent GOP scandals). But that's just too simple. I think that people are driven to embrace religion, and then to back religious political movements, because of the moral corruption they feel directly threatens them and their families. But that meanwhile the broader culture, unanchored, confusedly drifts from one extreme to the other, from righteousness to sin, in the same town, the same family, and even in individual people.
The problem, I suspect, is that most of the leadership of the religious right is obsessed with political objectives that do not even attempt to address the real problems that people face and fear — poverty, addiction, teen pregnancy, ignorance — and instead they attack problems that have nothing to do with real-world core moral and social challenges. They want to lower taxes for the wealthy, make gay marriage illegal, prevent discussions of sex and contraception in school, roll back or oppose civil rights for immigrants, women, religious minorities. These issues are powerful for getting political backing and electoral popularity, but they do not help in the real battlefield where people's lives are ruined by ignorance and addiction.
Until the religious right realizes that New York City is not Mordor projecting a beam of evil at them and tearing their families apart, and that the real problem is right in their own backyard, they, and we, will never be at peace.