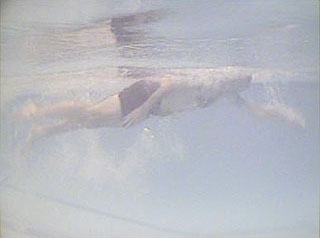 I've recently started a swimming training program so I can competently complete my weakest part of the trifecta: Running, biking, and swimming. Hopefully by next summer I will be ready for my goal, to compete in the New York City Triathlon.
An interesting aspect of this swim class is the use of technology. In our very first meeting, the coach shot underwater videos of each student crossing the pool, capturing all of our flailing arms and gasping breaths. He then wrote up a critique of each student's swimming technique and gave a CD with all of the videos and critiques to each of us, giving us all a powerful insight into what we are doing right and wrong in the water. It's astonishing how many things I can instantly see that I need to improve, especially when I watch my own video next to that of, say, Olympian Ian Thorpe.
What's great about this is how incredibly low-fi and accessible the whole deal was. You would think that underwater cameras as a training tool would be reserved only for competitive swimmers at the top of their game. But there I am! The video camera looked like a regular consumer model attached to a long pole with some kind of jerry-rigged periscope involved, and immersed in the water. The coach shot by simply walking along the edge of the pool and following each of us as we swam across. And because it's digital, it was easy for him to bring 20 copies of the videos on CD-ROM to the next class a week later.
He'll be recording us a few more times over the 12-week course, so we can track our improvement. I can't tell you how much I look forward to the next taping. I swear, I dream about swimming now.
This blog post has been brought to you by "Our Swimmer", by Wire:
[audio:wire_our_swimmer.mp3]