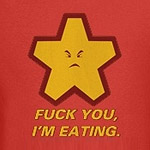 David Armano's Logic+Emotion blog today discusses a tacky new ad from Hardees & Carl's Junior, in which a pair of smarmy white high school kids rap about their stripper/teacher's "flat buns", intended to introduce the world to their new "Flat Bun Burger" product. The ad really is just too stupid to describe, and I won't even bother put the video of the ad here, since David has already (and reluctantly, by his own admission) put the ad up on his own site for you to see.
The commercial seems like a scene right out of the excellent and wildly-underrated movie Idiocracy (directed by Mike Judge, of Office Space and Beavis and Butthead fame). In the not-so-distant future in which Idiocracy is set, Carl's Jr. is one of the dozen or so corporations who essentially control a world populated entirely by people with below-50 IQs and whose culture has devolved into shameless gluttony, juvenile sexuality, and crass violence. A professional wrestler is President, law degrees are sold at Costco, slot machines are in hospitals, and lounge chairs have food-dispensing hoses and toilets built into them.
This ad only helps to cement the movie's profound prescience about the reality of our rapidly-dumbing culture and the overall downward trajectory we often seem to be heading towards, often hand-in-hand with corporate consumer marketing. In fact, every day I see a dozen commercials or products that seem right out of the future world of Idiocracy — but I see them right here in 2007 America. The movie is a satire, of course, but as with all the best satire it frequently and repeatedly hits shockingly close to home. (Happily, you can go ahead and view lots of hilarious scenes from Idiocracy on YouTube right now.)
On Human Dignity
I work on interactive marketing for some major consumer brands, but I am perpetually grateful that I never have to work on ads like this. Behavior's clients are almost exclusively blue-chip brands with deep respect for their customers, users, and audiences. But many designers are sometimes presented with the option of either doing something classy or doing something crass and degrading. We have a choice between treating the customer with respect and treating them with contempt. The makers of this ad are either morons (which I doubt) or people who think of their customers as moronic assholes ripe for exploitation.
In fact, in the comments on David's blog there is much speculation about the creative meetings in which this ad was hatched. I can only say that if I were working at a company producing ads like this, I would fight hard to do something classier, or I would quit and go work for someone a little less cynical about respecting human dignity. I don't want to be one of the architects of the Idiocracy future.
As designers of experiences and shapers of brands, we do have a choice in this matter, even when working for clients who may have an inclination to "go negative" and tap into this poisoned well. Even if you suspect that an ad like this would actually work, that it would actually succeed in bringing millions of people into Hardees/Carls Jr. to buy these flat bun burgers, you have a responsibility to the inherent dignity of the human race to NOT produce ads like this.
Note: It's not the sexuality of the ad I object to. I still think Van Halen's "Hot for Teacher" (the obvious inspiration for this spot) is cool. The music's kinda catchy, too. There's just something about the whole thing, maybe it's the over-the-top glorification of juvenileness and stupidity, that makes me sad for everyone involved with this ad and the millions of other cultural products like it that crowd our media landscape more and more.
Do you work on marketing that relies on these themes of disrespect, selfishness, immaturity, and stupidity? If so, how do you justify it? Do you have a choice in the matter, or do you feel that you have a higher obligation to give your clients or your customers what they seem to crave?