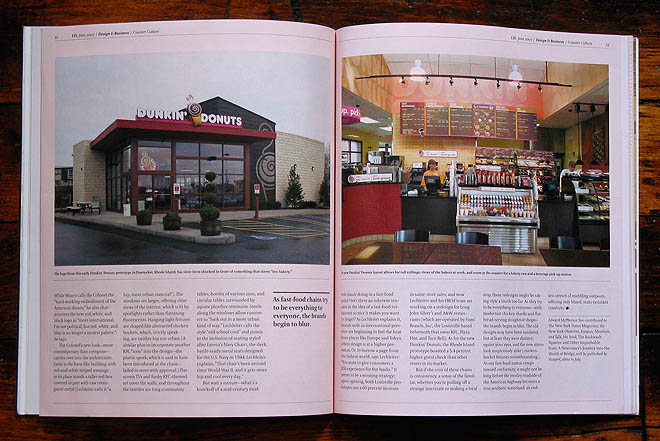 We recently stopped for coffee at an urban intersection where a Starbucks and a Dunkin' Donuts sat on opposite corners, facing off in a classic retail rivalry like Macy's & Gimbels. Deciding to avoid Starbuckian yuppiness (okay, we drink there all the time), we walked into the Dunkin' Donuts.
But something seemed wrong… the DD looked a little, er, fancier than normal. The lighting was dimmer and less antiseptic, the signage and typography more upscale, the furniture made of wood instead of plastic. Even the logo had a playful little twist to it.
Turns out we had walked into one of DD's new experimental brand environments, where the traditionally downmarket store is aiming for a more upscale clientele, or at least to catch up with the aspirational brand feeling of Starbucks. This experiment in environmental design was recently featured in ID Magazine (illustrated above).
We walked out with three medium iced coffees (and please note that the DD medium is equivalent to Starbucks's biggest size, venti — and the DD large looks like damn near half a gallon of coffee) plus three donuts for $5.81, probably 1/3 what we would have paid across the street. The upscale decor and merchandising apparently does not translate into upscale prices. And the coffee was great.