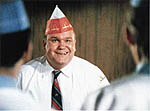 Large retail stores and fast-food restaurants have a simple choice when designing their checkout customer experience:
Multiple registers, multiple lines, one line per register
Multiple registers, single line
This problem is known in the retail industry as "queue management". The New York Times today features an article comparing the checkout experiences of several New York City supermarkets, and concludes that Whole Foods's single-line approach is the most efficient. The article suggests that the multiple-line approach is common in the suburbs, but that a different approach is needed for Whole Foods's New York stores… so a "single-line, bank-style system was quickly chosen for its statistical efficiency."
Um, duh. Don't we all know this yet? Isn't this common knowledge. Isn't it just common sense? Well, apparently a lot of retailers haven't yet gotten it.
But customers know it.
Lately I've noticed that when presented with multiple registers, customers (at least in New York City) will naturally form into a single line when given half a chance, even when store policy doesn't ask for a single line. Maybe it's because it just seems rude to slide up to an open register when somebody else is already waiting in line behind another customer at another register. It's taking advantage of another person's bad luck or complacency.
In fact, the multiple-line system almost deliberately encourages people to treat each other as rivals, asking them to think hard before choosing a line, to make tactical decisions to switch lines to maximize their own efficiency, even to send spouses and children to "hold places" in multiple lines to hedge their bets… all of this adds up to a kind of laissez-faire capitalist, survival-of-the-fittest model of the customer experience. In short, these stores are making the customers do their queue management for them.
This system is not only statistically inefficient, but (more importantly) it is a bad customer experience on an emotional level. It implicitly treats customers as animals, like pigs at a trough fighting for food. While some customers may complete their checkout happily, others will feel screwed because they chose the wrong line, or because they didn't quickly switch to a more efficient line at the right time. It alienates customers from each other, too, by forcing them to focus on tactics and not on normal social niceties, which can't be good for the store's sense of community.
In short, the multiple-line system lacks grace. Customers want to be polite and social, not rude and anti-social. We feel better about our experiences when they don't bring out the worst in us. We want experiences that enable us to behave graciously.
I can't believe this is still subject to debate, but many retailers are sticking to their guns. In the local CVS and McDonald's stores near my office, whenever the customers naturally and politely queue up into a single line the staff has to step in and practically yell at them to break up and form separate lines.
Why do they do this? Is it because, as the Times article suggests, customers are scared by long lines and, presumably, can be fooled into thinking that 10 lines with 5 people in each is a far shorter wait than 1 line with 50 people in it? Is it because of space/design constraints? Is it in order to better discipline and monitor unskilled cashiers? Is it because in many communities customers don't yet understand the mechanics of the single-line approach? Or is it just plain old corporate inertia and stupidity?