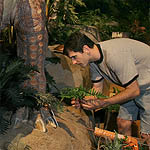 I've always wanted to believe that rational scientific thought and creative/artistic thinking are not just incompatible, but that they are in fact closely linked. Both in my personal art projects and in my professional work as an interaction designer, artistry and science have always gone hand in hand. My peers and friends generally share this view, too, with most of the people I know having a nearly-equal level of interest in and understanding of both the sciences and the arts.
As a result of my prejudice, I typically think of designers and artists as people who are also deeply interested in science and technology. And I generally assume that artists and designers are naturally resistant to irrational or faith-based thinking.
So in reading about the recently-opened Creation Museum in Petersburg, Kentucky — where visitors are shown absurd dioramas illustrating dinosaurs living side-by-side with humans in the Garden of Eden 6,000 years ago — I was struck by the New York Times' gallery of photographs of the people who actually built the exhibits.
Cast your eyes over to the right and you will see earnest young women and men who appear to be painting, sculpting, and architecting scientific displays. They look like the kinds of researchers you might see working on a university-sponsored archaeological dig, or like paleontologists assembling fossils in a Natural History museum exhibit. They look like smart and talented people. Which they almost certainly are when it comes to their artistic skills.
There's just one problem: They are all idiot creationists.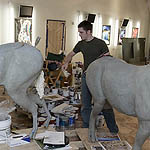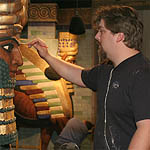 It's painful to be reminded in such a stark way that designers and artists — and creative people in general — have long been perceived by the general public as irrational fuzzy-thinkers with a deep-rooted hostility towards science and technology. This is, in fact, the dominant stereotype, and it sucks to be reminded how much the stereotype is rooted in truth. Much like the stereotypical hippies protesting modernity by sculpting and painting at a 1960's artist colony, these fresh-faced young creationist artisans combine genuine artistic talent with a profound level of ignorance or even hostility when it comes to science.
My last post discussed the intersection of fascism and artistic skill. While I am not equating Christian fundamentalism with fascism, they do share a devotion to irrational cultish thinking even as they attract creative talent to their ranks. The paradox is similar — how is it that artistic talent can co-exist with such irrational thinking?
Creativity is for Dummies
Futurist thinker Stewart Brand, founder of the Whole Earth Catalog and author of the excellent book "How Buildings Learn" has for many years been collaborating with Danny Hillis on a project called The Clock of the Long Now, which is described as "a monument scale, multi-millennial, all mechanical clock as an icon to long term thinking". When I had a chance to ask Brand if he thought that the clock was "art", he emphatically denied it, expressing a palpable disgust for the very idea. I got the feeling that, to Brand, the term "art" degraded his project by equating it with what many perceive to be emotional/spiritual/expressive/touchy-feely things like sculpture, drawing, and painting. He sees himself as a rationalist, opposed to artsy-fartsy thinking.
I was disappointed that Brand would think this way. To me it's just as bad when artists disavow the sciences as it is when scientific thinkers disavow the arts. To my thinking, Brand is an artist to the bone and I wish he would admit it instead of dumbly reinforcing the artificial wall between art and science.
There is a divide in this world, but it is between irrational and rational thinking, not between art and science.
Commercial Creativity
Interestingly, conservatives who work in creative fields or who have an interest in the arts have long resented this stereotype. I've personally known Christian fundamentalist commercial artists who felt completely alienated from their professional peers because of their beliefs. Religious conservatives resent Hollywood for its pervasive secular and atheist thought, and they have in recent years been producing show-business multimedia productions that rival Hollywood's in size, artistry, and technical skill (see Alexandra Pelosi's HBO documentary Friends of God for an overview of the evangelical entertainment industry. Here's a nice YouTube clip about Creationism from the movie).
The artisans working at the Creation Museum are, in fact, not on loan from the Museum of Natural History or from the National Geographic Society at all. No, the Creation Museum's exhibit director used to work at Universal Studios creating replicas of the fictional worlds in the movies.
So maybe I shouldn't be so harsh on these nice young people. Maybe they're not dumb, but merely mercenary. Perhaps, to these craftspeople, the Creationist Museum is simply another kind of science fiction movie set. Another day, another fantasy to depict.