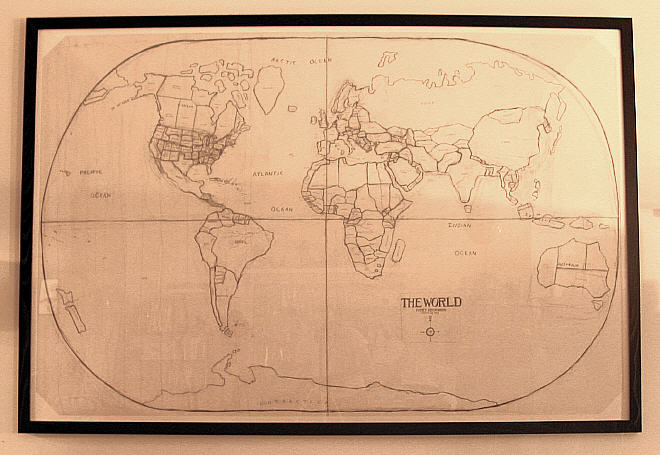 I'm getting some traffic today from kottke, so I figured I'd actually show y'all what the heck it is he's talking about when he wrote:
The first time I saw a world map drawn from memory was at Christopher Fahey's apartment. I forget how long it took him to draw, but it was remarkably accurate and fairly large (a few feet across).
So there it is. This is a photo I took just tonight of the map, hanging on the wall of the aforementioned apartment. It's about four by six feet, entirely in pencil, and I made it over the course of about two weeks in 1993 during my senior year at Cooper Union. During those two weeks, I studiously avoided looking at maps on posters or in newspapers, to ensure that each time I resumed working on the map I would not have artificially pumped myself full of fresh map knowledge. The result is a map not just using my memory, but also using the added elements of (a) time and (b) the basic techniques of drawing.
UPDATE: Some answers to questions, and some added insights:
The biggest thing I missed was Bolivia. I missed two other, poorer, countries whose names I can't remember. Otherwise, I got 'em all (that is, they're all on the map — they might not be in the correct place, of course!). Oh, and I missed some Canadian provinces — Canucks always ding me for that.
I got all the former Soviet Republics because they were all mentioned in the news in 1993. Likewise for the Balkans.
I am most embarassed by the shapes and positions of China, Japan, and the Koreas. I really got them wrong, comparatively.
The North coast of Russia and Canada are almost completely made up. Except for the island/peninsula thing on Russia, which I think is called Nova Zemblya (or maybe that's the name of the country from Nabokov's Pale Fire).
Ironically, you can tell which parts I made up because they have the smallest number of erasures. I just drew them once and was done with it. Look at Antarctica, Greenland, or anywhere in central Asia. I had no hope of getting them right, so I just guessed.
Conversely, the parts of the map that do have a lot of corrections (the US states, the positioning of Japan) are the parts where I obviously did a lot of thinking and rethinking to get it just right. In these cases, I ultimately had some confidence that I would find the right answer..
Many of the countries and states were "remembered" by the fact that there was negative space still remaining between the countries I knew and the ones I did not. For example, I had no idea Pakistan had a coastline (I'd assumed it was landlocked) until I drew the map and thought to myself there was no way that Iran bordered India. Thus, my drawing of Pakistan reaches the sea, just as the real Pakistan does. This is very much like putting together a puzzle.
Sometimes some simple factual "rules" help, too, things that I know because I made a mental note of it at some point in my life. For example, I know that the west coast of South America lines up with the East Coast of North America. Or that the northwest bulge of Africa is above the equator.
I once owned a world map shower curtain. And yes, I am a freak about maps and am always consciously and subconsciously memorizing something every time I see one.