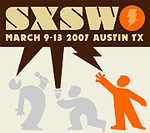 UPDATE, 3/11/07: My post-mortem on the panel, and links to many other people's opinions on the panel, are now posted here.
I am running a panel entitled High Class and Low Class Web Design at the 2007 South by South West Interactive conference. It will explore the same subjects I discussed in my series of articles last year, but this time with some new voices brought to the table.
My fellow panelists are pretty classy, too:
Representing the unbiased rigor of the usability labs, we have Liz Danzico, user experience maven who practially defines the term "multi-faceted" at AIGA, Boxes and Arrows, Daylife, and Rosenfeld Media.
Representing the ivory towers of the sophisticated elites, we have Khoi Vinh, my former partner and co-founder at Behavior, superblogger extraordinaire at Subtraction, and for the last year the esteemed design director at nytimes.com.

And finally, representing the sweaty locker rooms of Madison Square Garden , we have Brant Louck, a long-time friend of mine who is absolutely perfect for this panel: He is creative director at World Wrestling Entertainment.
I fully expect the panel to be incredibly lively and, hopefully, even a little provocative. Someone will be offended by something someone says, I just know it.
The panel is on Saturday, March 10 at 5:00pm. I hope to see you there!