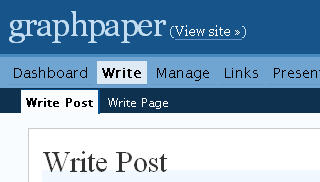 I just realized that I have been blogging for over year now (one year and 24 days, actually). I still can't believe I waited so long to get started.
It's been such a rewarding experience for me that I now think everyone should have a personal or a professional blog. I really do.
If you don't have a blog, go get one. Get a friend to help you if you can't do everything yourself. For me it only took only three or four weekends, including designing the site's graphics and layout, finding Pau to build the client-side code, and then integrating his HTML with WordPress.
There are even easier and faster ways to get up and running with a blog, too, especially if you don't have fancy graphic pretentions as I did. So if you've ever even toyed with the idea, I say just do it!