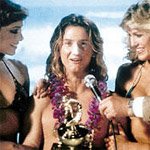 I've had enough of the term "surfing" when talking about "what we do when we use the web". It was a terrible metaphor when it was first invented, and it's only gotten worse. This morning on the radio I heard a journalist describe a terrorist using a computer to view terror videos with the word "surfing".
Surfing implies a kind of un-seriousness to using the web, as if it was just playing around. But in my experience at least half of my web usage is pretty serious, not goofing off at all. Like many people over the age of 18, I use my computer for work-related activities like research, productivity. It's hardly surfing when I am posting a wireframe deck to my company extranet. It's not surfing when I am checking my web-based email, researching a content management system, or searching via Google. It's not even surfing when I'm blogging, as I am doing right now.
Surfing also implies moving around from place to place quickly, but much of my web usage consists of spending a long time on a single page (reading or entering information), or interacting with web-based applications.
What would be a suitable replacement for the term? "Browsing" doesn't cut it — browsing implies a particular kind of action, such as using a directory to find a book on amazon.com. "Using"?
Do we even need a cute jargony term for this? Can't we just use the specific term for what we're actually doing with the web browser? You know, reading, writing, researching, reporting, shopping, viewing, playing. But please, no more surfing.