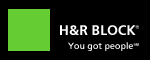 The new formula for software success? People. H&R Block's new slogan, "You got people", coincides with their apparent transformation into a hybrid of their old business as a tax preparation service company and their new business as a tax preparation software company. They're positioning themselves within the software market as a different kind of software maker: they don't just offer programs like their flagship TaxCut package — their software is backed up by people whom you can actually talk to when you need more help filing your taxes.
Of course plenty of big companies offer great person-to-person customer service, but this H&R Block example strikes me as the first time a shrinkwrapped software product has been explicitly connected with flesh-and-blood people as part of a holistic service offering — or at least as part of a marketing slogan!
We are slowly seeing this with other people-centric technological services. Social networks and other user-generated content services like YouTube are one thing, but we're also seeing technology companies themselves offering people to their customers, from Google's experimental (and apparently now defunct) Answers service to 37signals' unusually direct dialogues with their customers via their blog and product support boards.
This model has long existed for enterprise software, where for many of the big vendors consulting is as big a revenue generator as licensing fees. And it has existed forever in the shareware and independent or small software developer scene, where the customer-to-employee (or -developer) ratio is small enough that the developer often has both the time and the inclination to provide support. But are we seeing the emergence of the hybrid software/service model for mainstream consumer and small-business software and web services? Could be interesting.