A strange part of the US real-estate boom is the housing construction boom. Across America, brand-new housing developments are sprouting up like kudzu vines, tearing down forests and farmland to build new housing as fast as possible. Behind this are many factors: immigration, ongoing white flight from the cities, the growth of suburban sprawl, the emergence of technology boom towns, and other geographic and economic factors.

The dominant architectural style of this new growth has an overt "country" look, a kind of caricature of 19th century quaint Americana: gabled roofs, whitewashed siding, twisting rolling streets with absurdly Anglophilic names like "Greyswallow Terrace" and "Cedarpost Square" (names obviously generated by a computer program, as they have absolutely no relevance to the actual landscape or history of their location), plenty of grassland (although, generally, a sad lack of trees). They stretch across the landscape as far as the eye can see, and the consistency of their style strongly evokes the conformity of the 1950's Levittown housing model.
Sometimes they are single-family standalone dwellings ("McMansions", the fatter and more ostentatious cousin of what I'm talking about here), sometimes they are multiple-unit buildings with a single-family façade. Occasionally these "homes" (they never call them "houses", always "homes") will have a slightly-urban "townhouse" feel, with splotches of red brick and perfunctory sidewalks, but even these units will generally be topped off with the requisite white siding and pointed roofs.
The general style seems, I think, to be a hybrid of the country estate and the urban housing project, marrying the illusion of landed aristocratic luxury with the logistical efficiency of cookie-cutter subsidized apartment life.

Unfailingly, this housing trend always reminds me of the movie Back to the Future Part II.
In the second part of the BTTF franchise, Michael J. Fox finds himself driving the DeLorean into an alternate timeline wherein his beloved home town housing development (called "Hill Valley", an oxymoronic joke that is not in the least bit far-fetched from the real names of these neighborhoods) has been transformed due to bad governance by the villain, Biff, into a burnt-out crime-ridden slum not unlike the post-apocalyptic Bronx as portrayed in Bonfire of the Vanities.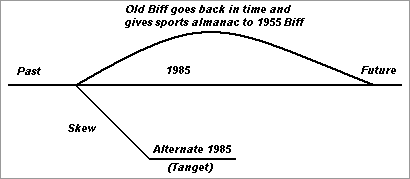 What had previously been an idyllic 1950's community, into which people could escape the violence and poverty of America's crumbling cities, had found itself, by 1985, plagued by the very same societal problems the residents had hoped to escape. (For context, here's a little reminder of where (or when) this plot twist occurs in the movie, via someone named RustedChainsaw over at Something Awful)
What's fascinating to me is that this dystopian future does not seem absurd or fanciful at all when you look at the fragility of the whole situation: America's growing gap between rich and poor (George W. Bush does kinda remind me of Biff), the shoddy construction of the majority of these buildings, the precarious "boom town" nature of many of the regions and economies in which this construction occurs, and of course the real estate bubble largely driven by exponentially increasing debt. It's not at all hard to imagine the same fate befalling many of our newest developments.
Schadenfreude
A recent study has shown that the suburbs are no longer the homogenous middle-class safe havens from crime and poverty that most Americans still think they are:
"As Americans flee the cities for the suburbs, many are failing to leave poverty behind. The suburban poor outnumbered their inner-city counterparts for the first time last year, with more than 12 million suburban residents living in poverty, according to a study of the nation's 100 largest metropolitan areas released Thursday."
Conversely, the myth of the inner city being a den of crime and drugs is also starting to fall apart. Here in New York City there is virtually no crystal meth problem (besides in the gay club kid scene), whereas throughout the rest of the country, especially in the heartland, it seems like meth has become the suburban version of crack, tearing families apart and turning normal law-abiding citizens into armed robbers and rampaging murderers.
Speaking of which, crime-wise, things are changing, too. Another recent study has shown that many of America's most crime-ridden cities are, in fact, small middle-American cities like Gary Indiana (10th most dangerous), the kinds of places we used to think of as somehow fundamentally different from the big coastal megacities like New York (227th most dangerous!). Hell, even divorce rates and teen pregnancy rates are lowest in urban-heavy blue states and highest in rural and suburban red states. The stereotypes fall like dominoes.
How refreshing it is for urbanites — who've had to endure decades of malignment by our suburban countrymen, characterizing us as depraved, ignorant, and worthless, and cursing us for our poverty, crime, and physical decay — to imagine the suburbs as crumbling burning slums with skyrocketing murder rates, meth labs on every corner, and crammed full of kids from broken households beheading and shooting each other for a hit of crank.