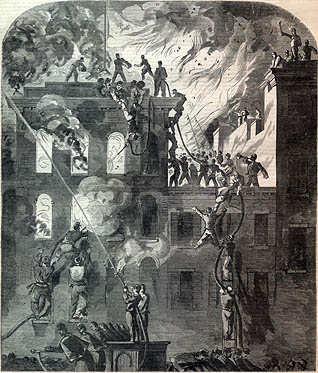 In September of 2002, when the war in Iraq was still seen as something other than inevitable, Al Gore opposed the Bush Administration's planned attack in an amazingly prescient speech. Almost everything he said and everything he feared has come to pass. Here's an amazing excerpt:
Moreover, if we quickly succeed in a war against the weakened and depleted fourth rate military of Iraq and then quickly abandon that nation as President Bush has abandoned Afghanistan after quickly defeating a fifth rate military there, the resulting chaos could easily pose a far greater danger to the United States than we presently face from Saddam. We know that he has stored secret supplies of biological and chemical weapons throughout his country.

We have no evidence, however, that he has shared any of those weapons with terrorist group. However, if Iraq came to resemble Afghanistan – with no central authority but instead local and regional warlords with porous borders and infiltrating members of Al Qaeda than these widely dispersed supplies of weapons of mass destruction might well come into the hands of terrorist groups.

If we end the war in Iraq, the way we ended the war in Afghanistan, we could easily be worse off than we are today. When Secretary Rumsfield was asked recently about what our responsibility for restabilizing Iraq would be in an aftermath of an invasion, he said, "that's for the Iraqis to come together and decide."
Replace "weapons of mass destruction" and "biological and chemical weapons" with "conventional armaments and explosives" and you have a pretty accurate picture of where we are right now, with a well-armed opposition killing our soldiers every day. Can you imagine how bad things would be if there were WMDs in Iraq after all? With insurgents and Al Qaeda infiltrators using them the way they're currently using Saddam's conventional arsenal against us?

Gore's use of the word "abandon" doesn't perfectly describe Bush's post-invasion strategy for Iraq, but given that Bush's post-war "plan" was, apparently, for the Iraqi people to spontaneously form a democracy and not require a huge American investment, it's close enough. Not sending enough troops to keep the peace in the post-war chaos is pretty much the same thing as abandonment. At best, they set a fire in a tinderbox apparently hoping that it would put itself out.
Many liberals and Democrats were happy to learn that there were no WMDs in Iraq, in part because we wanted the Bush Administration's deliberate misinterpretation (or wishful, I'm not sure which is worse) of prewar intelligence to be proven wrong. But really we should all be happy no WMDs existed, both liberals and conservatives, hawks and doves, because if there were WMDs in Iraq, Rumsfeld's war plan would have failed to have secured them before they fell into the hands of insurgents and terrorists, who would be using them today — both in Iraq and most likely elsewhere.
So now what?
So what do we do about Iraq now? And does it matter who was right and who was wrong?
The answer to the second question is Yes. I think more and more Americans will agree that America, and the world, is worse off now than we were before the invasion of Iraq, and that invading Iraq was probably a mistake. And how we actually conducted the war, of course, is largely the reason for our ongoing troubles (lying about our reasons for starting the war in the first place, not sending enough troops and thus allowing an insurgency to form, explicitly condoning torture and abuse and thus undermining our moral position, damaging international alliances and thus our ability to negotiate — or wage war — with Iran and other real threats, etc.), and a reasonable argument could be made that if someone besides Bush waged the actual war in Iraq that we'd be doing far better.
The American people seem to be starting to realize that the people who actually did run this war — the Bush Administration and their GOP Congressional followers — cannot be trusted anymore with running America's international affairs. They were put in charge of the household, and they set the house on fire. And yet somehow many of us still tend to think that the crew that set the house on fire is the crew best suited to putting it out. Why? Because many still see Bush as a strong and confident leader, qualities which outweigh concrete results in many people's minds.
That's the frustrating part to me: Although it's getting better and better, I feel like America still barely realizes that the problems we're having are the result of bad leadership. Some Americans still think that our lack of success could be the result of insufficient loyalty to Bush by the American people. The Republicans are already drafting up their "we-didn't-succeed-because-we-were-betrayed-by-the-left" framing for the Iraq War's historical legacy.
[Please, please read an excellent article about the history of the right-wing "Stabbed in the Back" frame in the June 2006 Harpers magazine, which you have to actually buy since Harpers does not yet publish their content online.]
Yes, it's still important to make it clear to the American people that many prominent leaders, most notably Al Gore and Howard Dean, were courageous enough to point ot the specific problems with starting this war from day one.
But it's also important, probably more important now, for America to realize that, regardless of whether or not invading Iraq was a good idea, many of our missteps after the decision to invade were not inevitable and that it is the incompetance of our leadership that has made our current problems as bad as they are.
A great many generals and military experts advised on sending more troops and having a better post-war plan, and they were silenced (including Colin Powell, who was apparently the most ineffectual and useless Secretary of State in recent history). Many Americans advised quite loudly against having a wink-wink policy towards torture, saying it would come back to haunt us. They too were ignored or shouted down. Many members of Congress asked the Administration if they should pass laws to legalize tribunals for enemy combatants, or laws to permit certain types of domestic surveillance — and they were told that no law was required, only to find out later that even the Administration itself might be in better position today if they had, in fact, passed these laws.
All of these naysayers were painted at the time as somehow undermining America's ability to "win" in Iraq… and yet now we now know that (a) all of them were right, and (b) if we listened to any of them along the way, instead of to the Bush Administration, we'd all be better off today.
Putting the guy who set the fire in charge of putting it out is patently insane, but I think liberals need to realize that many Americans will do just that: They'd rather believe that the fire isn't so bad, or that it's going away in six months (or one "Friedman"), rather than trust new leadership to put it out. They'd rather have confident incompetance (Bush and his inheritors) than equivocating correctness (the Democrats) at the helm of our nation.
Of course, what we ultimately need is confident correctness. Yes, we still need to show that the Bush team and their supporters were and are wrong and incompetant in order to show that the Republican party is fundamentally flawed when it comes to international affairs.
But on the other hand, we need to recognize that the house is indeed on fire and that blaming people does not put the fire out. We need the Democrats to put forth a plan to put the fire out and bring stability to Iraq, one that is confident but not based simply on proving Bush wrong. I think most of us now know he was wrong, let's figure out to make things right again.