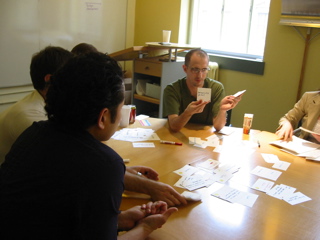 The AIGA is currently in the throes of a major web site redesign. Liz Danzico, the AIGA's Experience Strategy Director, invited me and about 7 other design industry types to attend a card-sorting exercise to help their design team understand how the AIGA's users think about the types of content and features the AIGA will have on the site.
It was a great experience for me to be able to see things from the other side of the user test microscope. Although I understand the hows and whys of conducting user testing, I still learned a few things about what test subjects go through, lessons that will doubtlessly be valuable to me later on.
For example, although I didn't feel any pressure to say certain things to please the testers (a common problem that can poison a test subject's ability to provide good feedback), I did have a strong inclination to try to pretend to be somebody I was not, to pretend to not know things I already knew, and to try to put myself in the shoes of someone else in order to provide what I thought would be more useful ideas (this is incredibly ironic, given the fact that in the post immediately prior to this one I wrote at length about how criticism shouldn't originate from what we imagine other people would think, but only from what we can think and observe ourselves).
I absolutely recommend that all usability consultants try to get themselves into a test situation to feel what it's like to be the lab rat for a change. At the end, we even got some cheese (cream cheese, with bagels).