Today (amazingly the 410th anniversary of the deaths of both Miguel de Cervantes and William Shakespeare) I've finished reading the classic Don Quixote Parts I and II. What an unforgettable journey, and what an eye-opener!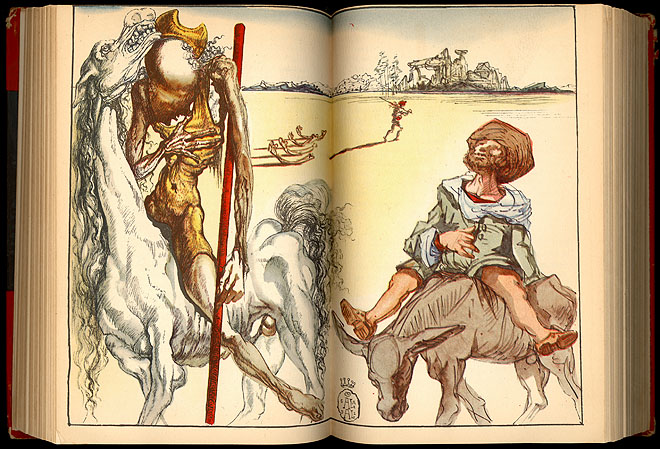 A four hundred year old book (Parts I and II were published in 1605 and 1615) that in many ways paints a character — two characters, in fact — every bit as lifelike and nuanced as anything by novelists who would come hundreds of years later. Insights into the human psyche that presage our modern understanding of the mind. Historical perspectives on Europe, Spain, and even North Africa in the century after the expulsion of the Moors from Europe. And storytelling techniques that seem nearly postmodern.
Gained in Translation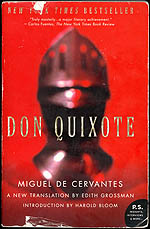 I began my first sally with my grandfather's 1946 Modern Library edition, a lovely hardback volume illustrated by the magnificent Salvador Dali. But almost immediately, Peggy bought me a widely-acclaimed recent translation by Edith Grossman. After reading only a few pages, I switched to the newer translation and didn't look back.
Grossman's language is crisper, more modern sounding. Apparently, 15th-century Spanish, in particular Cervantes's style, is more like modern Spanish than 15th-century English is like today's English, so a translation that values a brisk read over ornate language can still be pretty faithful to the original text. While I was sad to miss the illustrations, the language and the storytelling was far easier to read and offered a more direct entry into the more important aspect of the story, that is, the characters themselves.
Don Quixote and Sancho Panza turned out to be far, far deeper and more interesting characters than I could possibly have ever imagined.
Not the Impossible Dream
I've never seen the musical "Man of La Mancha", but I've heard the wretched song "The Impossible Dream" enough to know to avoid it. Having read Don Quixote, I am now even more inclined to steer clear of it. The Don Quixote who sings "The Impossible Dream" seems to be a idealistic free-thinker who rises to the challenge of a world that does not understand him, conquering adversity and beleiving in himself. Blah blah blah.
This is pure dreck — the real Don Quixote is a melancholy, thoughtful, sometimes humorous, but ultimately profoundly mentally ill man, suffering from hallucinations and a deep psychic loneliness. His adventures are a mixture of violent slapstick and unmitigated tragedy. His companionship with Sancho Panza isn't simply one of master and servant, but one of deep friendship and a strange kind of mutual madness.
The Real Don Quixote in a Postmodern Hall of Mirrors
I just used the phrase "the real Don Quixote" in the last paragraph. What's ironic about writing that is that Man of La Mancha wasn't the first phony Quixote to make the scene. In fact, a fake Don Quixote was published shortly after Cervantes's own Don Quixote Part I was published, written by another author to cash in on the popularity of Part I.
This false version perturbed Cervantes so much that he incorporated its existence into his own, real Don Quixote Part II: Only a few pages into Part II, Quixote and Sancho learn about the publication of the false Quixote book, and they frequently run into people who have read either Cervantes's version or the false version. In other words, the publication of Don Quixote is part of the story itself, and the characters seem to be fully aware of their roles as literary figures. I found this aspect of the story delightful, and particularly surprising for 1615!
As if the postmodern twists weren't reason enough, Part II gives Sancho a greater, even starring role, the secondary characters are far more interesting and fleshed-out, and their adventures explore more interesting and nuanced aspects of how people seek to understand and explore one anothers' minds. Some reviewers may tell you to read Part I and skip Part II. Do not do this: If you only read Part I, you are really only reading half of the story, and missing most of the best and most rewarding parts.
The Madness of Don Quixote — and Sancho Panza
The psychological depth of both Quixote and, surprisingly, Sancho Panza, was a revelation to me. Sometimes, Quixote would seem to even understand that he was mad. Other times, he would be completely immersed in his fantasies. Sancho, likewise, was perfectly aware of his simple and comical nature, but he constantly suprises you with his wisdom and understanding. What's more, the wonder that I felt contemplating these characters was shared by many of the other characters encountered in the story, too.
Some readers, including myself, have a suspicion that Don Quixote isn't quite as mad as he seems in the story, that in many ways he knew what he was doing. I see this as an aspect of his madness, that he was a man who chose to endure the hardships and abuses of knight errantry merely because it would satisfy the requirements of his madness. Along the way, he befriends his squire Sancho Panza and together they explore the boundaries of each others' minds. Some have said that the definition of madness is the ability to hold two irreconcilable views in one's mind at the same time. Both Quixote and Sancho satisfy this definition perfectly, and their mutual navigation of these interwoven conflicts — their friendship — makes up the heart of the novel.
Great Minds
Some have credited Shakespeare with the very invention of the modern mind, through characters like King Lear, MacBeth, and Hamlet. In Don Quixote, you can see that this historical revelation was not unique to Shakespeare (in fact, one of Shakespeare's lost plays, Cardenio, was based on a long novel-within-a-novel from Don Quixote).
Don Quixote is everything it's cracked up to be: A comedy, a tragedy, and a window into the creation of the modern literary psyche.