Barry Diller's IAC/InterActiveCorp is building a new headquarters on Manhattan's west side in Chelsea. And it's a Frank Gehry building! This is exciting news, and there's lots to see and talk about even now, long before the building is even completed.
New York's Architectural Draught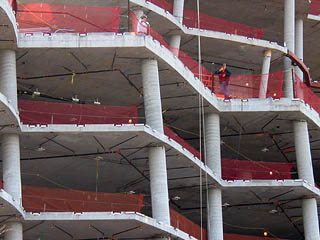 We've all seen Gehry's signature works over the last decade or so. He's put his distinctive mark on the skylines of Bilbao, Seattle… even little old Weil am Rhein, Germany's got their own Gehry landmark. But New York City, no dice. In fact, there's been very little truly interesting and innovative landmark architecture in New York, period, for several decades. There was talk about five years ago, during the dot-com boom, of Gehry building a Guggenheim outpost in the downtown/South Street Seaport area, but despite the excitement those plans seem to have been put on hold.
So when it was announced that IAC was going forward with building a Gehry-designed corporate headquarters in Manhattan, New Yorkers were super excited. We can't wait to see it completed!
But here's the great part: We don't have to wait until the construction is complete to appreciate Gehry's remarkable architecture.
(de)constructing Gehry
Over the past several months, the building has been rising from the ground and taking shape right across the street from the Chelsea Peirs. I bike to and from work fairly often, and I pass by the construction site all the time, but I don't think I realized what was happening until the building was several months along.
At first glance, the building-in-progress looks a lot like most other high-rise construction sites: lots of slabs of reinforced concrete and a series of columns supporting each successive level. Most people probably just breeze by and don't even notice that something peculiar is going on there: That column is a little crooked, isn't it? And the edges look a little wobbly, don't they?
Pull back a little more, and it's clear: This is a different kind of office building. Pull back all the way, and you can clearly see the articulations of Gehry's curves, the wings and sails he is so famous for:

Here's a detail of the most exaggerated part of the structure, a blade-like edge on the north face. Next to it is a close-up of the "skin", which they've already started applying to the south corner:
Finally, here's a side-by-side comparison of the construction site with an original architectural rendering:
Great Minds Think Alike
Finally, something we couldn't help but notice here around the office: Behavior designed the IAC corporate site in 2003-2004. This was around the same time that IAC announced that they selected Gehry's design for their headquarters. The overlapping curves, soft colors… Coincidence? You decide.