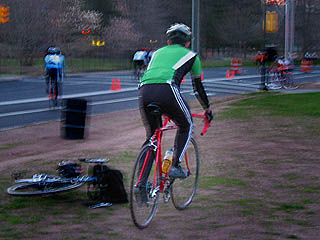 I did my first bike race today!
Peggy and I showed up at the crack of dawn this morning at Brooklyn's Prospect Park for a 6-lap, 20 mile road race.
It was thrilling to ride with over a hundred other riders, thirty of them in my racing class (Category-5, the lowest level). Riding in such a big group of cyclists was at first a little nerve-racking — but my excitement overcame my jitters, and pretty soon I got into the groove.
It was fairly easy going at first, but after the first lap the pace picked just up a little — and suddenly I found myself struggling to keep up with the pack. You see, riding in a pack gives every rider (except for whoever is in the front) a significant advantage over someone riding alone — so if you are separated from the pack, it takes tremendous effort to get back in the game. I knew that if I ever found myself falling off the pace by even a few feet, I was essentially going to be out of the race.
Sure enough, just as we were finishing the third lap, I found myself precipitously losing steam and dropping off the back of the pack, falling to about 50 feet behind, then 100 feet. I knew I'd never catch up, and honestly I was kicked. So I dropped out at exactly the halfway point.
Tonight, twelve hours later, I have regrets about dropping out. But I can say for sure that at the time I was 100% confident that it was the right decision. I was completely spent, out of breath, wobbly, and defeated.
Regarding my fitness, I have some lame excuses: I've clocked only about 20 miles over the last two or three weeks (I've been travelling and working late a lot!), I got about three hours sleep the night before (bad planning, plus I didn't anticipate daylight savings time), and I think I have something of a cold or allergy or something. Ultimately, however, I need to train more if I hope to keep up with even these Cat-5 racers.
Regarding my skills, however, I suspect I simply have an awful lot to learn. This was the first time I've ridden with 30 other people competitively, and it's a wholly different animal from cycling with a friendly pick-up group. I can draft pretty well with other riders, but I'm not so good at it in a pack of people who are actually competing with each other. The aggressive jockeying for position in the paceline was pretty hair-raising, and the occasional glitches — like the inexplicable sudden braking or the time someone knocked a cone right into the middle of the pack — really threw me off.
Still, I am absolutely looking forward to racing again next week. The lessons learned today are already valuable: I know a little bit more about what to work on during this week and what to be ready for next week.
So my first race was a dud. Next!