(This is a rebuttal to Curt Cloninger's essay "Conceptual Art Sucks", which you should read first.)
CURT: "I figured it was about time I write an article explaining why conceptual art sucks, since every time I encounter conceptual art, I start to twitch."
Curt, your "Conceptual Art Sucks" essay has a bitter seething tone that troubles me. Your attitude towards conceptual art smacks of 'us-against-them' anti-intellectualism, something I would not expect from a supersmart fella like you. I am surprised to see you posturing this way, particularly your almost Jesse Helmsian "give me back my tax money" coda. Why such venom for innocent artists and the people who like them? That's right, you big bully: I'm here to stick up for conceptual art.
Your broad attack on the entirety of conceptual art is founded on a single real art world example that you didn't even really bother to research (Levine) and two fresh-outta-art-school pranksters (Mandiberg and Bruns) whose work you sadly misinterpret. Ironically, Michael Mandiberg's sites approach the topic of conceptual art from much the same place you're coming from – he is clearly to a large degree poking fun at Sherry Levine's work. Kendall Bruns, in turn, is making fun of Levine and Mandiberg. This parodic quality is so obvious I'm surprised you missed it. Methinks that Mandiberg doesn't quite think conceptual art 'sucks', but he does think that it's a medium in which he can have some fun and maybe make someone giggle. Having missed the initial joke, you lost out on the laughs.
But the fact that you didn't "get" the joke is not surprising. Conceptual art scares you.
Me, I love conceptual art. Correction: I love good conceptual art (there's plenty of bad stuff too, just like there's plenty of bad anything). I like to look at art and think about what the artist was thinking. I like to be confronted with the beauty of ideas and I like to look at clever people's weird and wonderful thought processes.
CURT: "The real artist embraces the fact that a pure idea cannot be transferred from one person to another without first being encoded into some form of media."
To me the most important intellectual and philosophical advance that conceptual art has given us (and the core concept that you're just not getting) is that works of art don't simply exist as mysterious artifacts for us to look at. Rather, they exist in a kind of continuum of ideas and communications, within a culture of conversations, publications, other works of art. Unless there is a nuclear holocaust or some kind of massive purging of all human knowledge, it will never, ever, ever be possible to look at a Van Gogh painting and separate it from what we all know about his life. It is absurd to think that Van Gogh's painting would sell for $30 million a pop if it wasn't for the tragic glamour of his life story.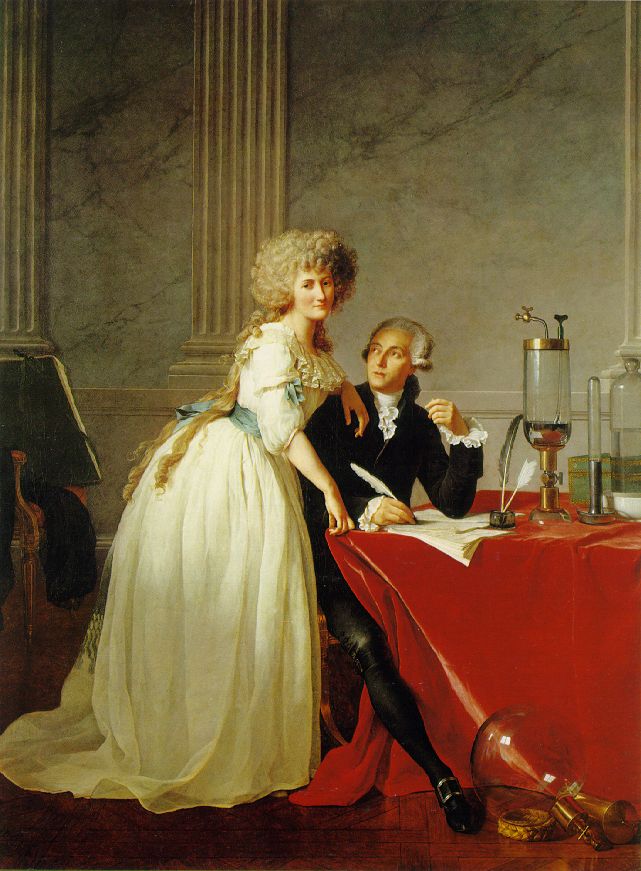 I love this painting of the revolutionary chemist Antoine Lavoisier by Jacques-Louis David, but oh! how much more interesting the painting is when you know that only six years later the great French painter *personally* signed the death warrant that led to the chemist's death by guillotine. I can't imagine how boring this painting would be if I did not know who the subject was (the most important chemist ever), if I didn't know about the time period (the damn French Revolution), etc. etc. My knowledge only amplifies my appreciation, and the more knowledge the better.
You assert that to the conceptual artist "the artist statement is merely incidental". Maybe you haven't actually studied a lot of post-war art history, so let me break the news that that statement couldn't be more wrong. Almost without exception, conceptual artists claim that the work of art is incidental, while the dialogue around the work (which often takes the form of an artist's statement) is the key to the experience.
To claim that a work of art should be appreciable in a conceptual vacuum is to deny yourself the most salient pleasure of art.
CURT: "Post-modern relativism is afraid to call anything bad, so conceptual art sneaks in the back door and the relativist art critics are bootless to kick it out. "
It's interesting that you mention fear. The thing that strikes me most about your tone is not your anger, but your fear. Here I will do a little of my own psychological guesswork: I think your distaste for conceptual art is driven by a fear of looking dumb. And your fear of looking dumb is driven by a lack of confidence in your own ability to pass an informed judgement on artwork that purports to be 'intellectual' but is, in fact, incomprehensible to you.
Here's the scenario: You look at (or rather, read about) Sherry Levine and you don't find it interesting. But all the big art critics seem to love it, teachers and artists tell you it's important and interesting. Are you missing something? Is there something you're not getting? You're afraid now. What do you do? You go on the offensive. You shift the focus from the work of art to the whole conceptual art practice to save yourself the trouble of actually examining the particular work. Why?
Maybe a better question is What could you have done instead?
You could attempt to learn more about Sherry Levine's work, to learn more about the late 70's conceptual art scene and the context in which this work was made.
You could talk to some people and find out why they like Sherry Levine's work.
In fact, I'll tell you why I like her work: When the After Walker Evans series was first displayed, photographs were often sold with a great deal of emphasis on the object, i.e., the print. In 1979 an original Walker Evans print would have cost you a ton of money, and in fact it would probably still cost you a wad in 2001. But what exactly do you get for your money? A flat piece of paper with a black and white image on it. Sherry Levine showed that, in fact, the value of Walker Evans' artwork was not located in the chemicals or the paper, but in the image itself, something that cannot be touched. The image is the real product, not some dumb original print. Sure, the artifact of Walker Evans' handiwork has some sentimental or historical value (like owning George Washington's dentures or something), but the image is the 'real' artistic product. By separating the image from the artifact, Levine has in a way demonstrated your very point: that although we don't usually recognize it, the 'value' of a work of art can be distilled into several constituent parts: the work itself and the aura around the work. She separated the aura from the work by brusquely (yet with tongue in cheek) presenting the work as her own.
Okay, so maybe she could have written an essay in Time magazine and made this point more clear to people like you who don't like to read a lot about art. Heck, maybe you don't find her point (or my interpretation) particularly interesting. I'm guessing, however, that your real beef is not with Sherry Levine's concept, but rather you object to the whole idea that some art requires a lot of work to "get."
Another famous conceptual artist, Lawrence Weiner, once said "Learn to read art." He meant to point out that art is often practiced in a language that is not readily accessible to everyone, that to understand a lot of art, particularly contemporary art, you will likely have to make an effort to learn something new. Yet you, on the other hand, want to be able to approach art from a purely visceral perspective, expecting to be able to experience artworks with no other knowledge besides that which you can see (what Duchamp called "retinal art"). This is an insult to all art practive, not just conceptual art. It would be folly to try to read Immanuel Kant without a strong knowledge of the history of philosophy. One doesn't hand a copy of Remembrance of Things Past to a 15-year-old child and expect comprehension of even the first scintillating paragraph. Yet you (and most other people) insist that visual art should NOT require any external knowledge to be appreciated. Do you actually think that art is somehow "dumber" than other creative pursuits and that it should not require extensive use of one's brain?
CURT: "Meanwhile, give me back my tax money, stop teaching my children, and use your galleries to send concepts down fatter and more emotive media pipes than the thin mumbo jumbo prose of some hackneyed artist statement written by some wannabe who never made any real art."
You again assume that conceptual art is always devoid of aesthetic value. This is in fact the core of your disagreement with conceptual art. I think you're wrong. Like anything else, aesthetic value is a matter of taste, but I would venture to say that if you spent the time to actually look at some good conceptual art you'd find a lot of very interesting and innovative aesthetics.
Here are some links to sites about some of the most famous conceptual artists. In addition to having essays about the work, there are some pretty pictures to entertain your retinas. And I'll be goddamned if much of this work isn't fucking beautiful to look at.
Believe me, I'm not the kind of guy to fall for barely comprehensible postmodern critical/philosophical mumbo jumbo masquerading as social science, but I find a great deal to enjoy in the works linked above. It surprises me that you see absolutely nothing.
I can't make you like something you don't like. But hopefully you'll reopen this book and again ask yourself "what do people see in this stuff?" Only this time, instead of going into a kind of intellectual fight-or-flight mode, you'll spend some time to try to learn the language and contexts of the practice you so angrily dismiss.